Energy Use and Climate Change
In 2009 Perisher completed its three year $19m snowmaking expansion project which added 129 new automated snowguns to Front Valley, Yabby Flat, Goats Gully, Snowy Trails, Happy Valley T-Bar and to Towers run on Mt Perisher. The new snowmaking is nine times more energy efficient than the previous system. In 2010 Perisher reduced electricity consumption in buildings by 12% from 2009 through improvements to heating, lighting and energy management systems.
Here are some examples of these:
The review of Perisher's Energy Policy
Perisher's Energy Policy is regularly reviewed and underpins Perisher's efforts to reduce greenhouse gas (GHG) emissions and to more efficiently use energy resources. The energy policy commits Perisher to acting responsibly with respect to energy use and to achieving best practice in energy management when carrying out its activities.
In conducting its operations, Perisher adopts the following principles of responsible energy use;
Measure and continually monitor energy consumption
Minimise energy use and greenhouse gas emissions
Transfer energy use to renewable energy sources or lower carbon emission energy sources where it is sustainable to do so
Offset GHG emissions where it is sustainable to do so.
Measure and continually monitor energy consumption
A target of Perisher's EMS is to improve energy efficiency and reduce GHG emissions. Perisher has completed two comprehensive energy surveys, the first to identify the range of energy sources used and relevant rates of consumption, and the second identifying short and medium term opportunities for improving energy efficiency including making recommendations for more efficient space heating, lighting, domestic consumption, office automation, snowmaking and building design.
Minimise energy use and reduce green house gas emissions
A range of energy management initiatives have been undertaken, including;
The replacement of a range of incandescent lighting with low watt long life fluorescent lighting
As noted above, the roll out of a more energy efficient and automated snowmaking system which also has improved snow reliability and quality.
The installation of thermostats/timers on space heaters and the staged removal of inefficient fan/radiant heaters from workplaces.
The installation of a power factor correction units and harmonic filters on various pieces of plant and lifts. The further roll out of these energy saving devices will continue in the future.
Transfer energy use to renewable energy sources
Perisher has converted the power source for the Village Eight Express Chairlift, night skiing lights and six snowmaking fan guns on Front Valley, the Early Starter Double Chair, the Summit, Ridge, Terminal and Pleasant Valley Quad Chairs at Blue Cow, the Kaaten Triple Chair at Smiggin Holes and the Interceptor Quad and Pretty Valley Double Chairs at Perisher Valley to a 100% renewable energy source. This places Perisher's renewable energy power source commitment at 5% of its total electricity consumption. The conversions are an important part of Perisher's commitment to a responsible use of energy, reducing GHG emissions and improving environmental management performance.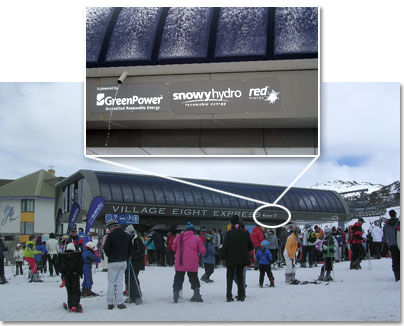 Encouraging Skitube Use
All Perisher staff are encouraged to use the Skitube to access the resort whenever possible, in order to reduce the kilometres driven to work and also provide a better experience for many of Perisher's guests by limiting the amount of cars travelling on Kosciuszko Road to Perisher Valley and Smiggin Holes. In 2003 Perisher introduced a requirement for all staff (save for some staff with exceptional circumstances) to travel on Skitube during certain peak periods and it is pleasing to note that Perisher's staff continue to actively support this initiative.
Fuel management system
Perisher has installed a computerised fuel management system, which monitors fuel use by operator and by vehicle type. This allows the control and measurement of fuel use and hence provides opportunities to better manage fuel consumption throughout the resort. The system will aid the monitoring of the fleet's overall performance and the assist with the scheduling of preventative maintenance.

(read on Biodiversity...)