Skitube - Alpine Railway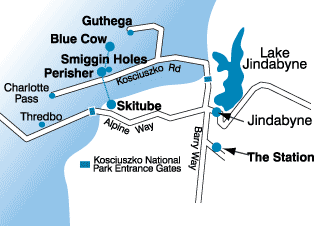 Why Use The Skitube
Skitube is a convenient and innovative train ride from Bullocks Flat through the Ramshead range onto Perisher Valley in 10 minutes, then another 7 minutes to Blue Cow. The distance is 8.5km, 6.3km is underground making it one of the longest underground train tunnels in Australia and travelling as deep as 550m below the surface so it's a great experience in itself. There's also FREE day and overnight parking at Bullocks Flat. Travel between Perisher and Blue Cow is FREE with any valid Lift Ticket.
Day Tripping
Because the Bullocks Flat Terminal is well below the normal snow line and only 20km from Jindabyne, it's an easy drive. Frequent train services run to Perisher Valley and on to Blue Cow. A Skitube pass includes the Kosciuszko National Park entry fee and savings can be made by buying a combined Train and Lift Ticket or combined Train and Snow Experience ticket.
On Snow Stays
There is limited overnight parking at Perisher Valley and Smiggin Holes so on snow stayers can leave the car in the overnight security patrolled carpark at the Bullocks Flat Skitube Terminal free of charge and travel to Perisher via Skitube.
Skitube Terminal Facilities
Bullocks Flat Skitube terminal is a complete source of information and services. You'll find a Lift Ticket Office, Snowsports School Office, Information Desk, Kiosk, Souvenir Shop as well as Snowsports Hire and Ski & Board Service Centre all with friendly staff on hand to answer your questions.
One of the largest ski and board rentals around will quickly equip you, your family or group, while the Ski & Board Service Centre next door provides overnight workshop facilities - just drop off your gear on the way down and pick it up next morning ready to go.
Note: For passenger safety the terminal doors at Bullocks Flat will close one minute prior to advertised train departure time.
Skitube Timetable 2014
OFF PEAK SEASON TIMETABLE (30 min departures)


Effective from


SPRING SEASON - Monday 1 September to

Sunday 5 October 2014


On Monday 6 October Skitube will depart on the hour from Bullocks Flat, last service from Bullocks Flat will depart 5pm. The last service from Perisher will depart 5:30pm.
Bullocks Flat to Perisher Valley (Uphill)
1:00am#
7:00am
10:00am
12noon
3:00pm
8:00pm#
2:20am*#
7:30am
10:30am
12:30pm
3:30pm
9:00pm#
3:00am*#
8:00am
11:00am
1:00pm
4:00pm
10:00pm#
4:00am*#
8:30am
11:30am
1:30pm
4:30pm
11:00pm#
5:00am#
9:00am
2:00pm
5:00pm
11:45pm#
6:00am
9:30am
2:30pm
5:30pm
6:30am
6:00pm
7:00pm
Perisher Valley to Blue Cow (Uphill) - No Public Access to Blue Cow
Blue Cow to Perisher Valley (Downhill) - No Public Access from Blue Cow
Perisher Valley to Bullocks Flat (Downhill)
12:32am#
6:40am
9:42am
12:42pm
3:42pm
6:32pm
1:32am#
7:12am
10:12am
1:12pm
4:12pm
7:32pm
2:32am*#
7:42am
10:42am
1:42pm
4:42pm
8:32pm#
3:32am*#
8:12am
11:12am
2:12pm
5:12pm
9:32pm#
4:32am*#
8:42am
11:42am
2:42pm
5:42pm
10:32pm#
5:32am#
9:12am
12:12pm
3:12pm
6:12pm
11:26pm#
Skitube Travel Terms and Conditions:
#On Sunday, Monday, Tuesday and Wednesday nights, trains operate on an hourly basis on request between Bullocks Flat and Perisher Valley from 8:00pm to 1:00am the following morning. Train requests may be made in person at Bullocks Flat or by courtesy phone from Perisher Valley Skitube Terminal.
*Please note there are no train services between 2:00am and 5:00am on these mornings for reason of safety inspections. On Thursday, Friday and Saturday nights, trains operate on an hourly basis on request between Bullocks Flat and Perisher Valley from 8:00pm to 6:00am the following morning. Train requests should be made as per the above procedure.