Village Guide
Shopping and Services Guide
Slopestyle Mountain Sports
Perisher's seven Slopestyle Mountain Sports stores have an extensive selection of fashion, hardware and accessories at very competitive prices. Find all the top brands at stores conveniently located, both on-snow and at The Station. If you leave something behind, don't worry, Perisher has just what you need. Why not talk to one of our expert staff to assist you with finding the right ski or board to ensure you have a great time on the slopes.
Perisher Centre - Upper Level
Come and browse through our range of ski clothing, après street wear and accessories.
Perisher Centre - lower level
Slopestyle Board Store - Conveniently located next door to the main ticket office, it carries a large range of snowboards, boots and bindings plus accessories.
Slopestyle Demo and Rental and Demo Centre - Try before you buy! Test drive the latest skis and snowboards during your stay at Perisher. Whether you are in the market for some new equipment or just want to see what the latest skis and boards look and feel like drop into the Slopestyle Demo Centre and select from the latest models available from Burton, Volkl, K2 and Salomon. Located slope side on the lower level of the Perisher centre, our qualified ski and board technicians would love for you to come in and have a look around.
Man from Snowy River Hotel
Snow Beauty – Body and Skin Studio – OPEN DAILY - Facials, relaxation massage, hot stone massage, waxing, hand and feet treatments, spa packages
Blue Cow - Skitube Platform
Blue Cow terminal has an extensive range of snowsport clothing, accessories and souvenirs.
Smiggins Holes - Smiggins Arcade lower level
Great range of clothing and accessories conveniently located within the Smiggins Snowsports Hire Outlet.
Guthega - Guthega Ski Centre
Full range of snowsports accessories and souvenirs.
Bullocks Flat - Bullocks Flat terminal
Accessories, souvenirs and a massive range of ski clothing at amazing prices.
The Station - Jindabyne
An extensive range of snowsport clothing, accessories and souvenirs.

Perisher Centre
| | | | |
| --- | --- | --- | --- |
| Adi's Waxatorium (Service & Repairs) | Lower Level | 8:00am to 5:00pm | (02) 6457 5027 |
| Alpine Bear Jewellery | Upper Level | 8:30am to 5:30pm | (02) 6457 5023 |
| Mid-Perisher Centre Snowzone Gifts and Gear | Mid-Perisher Centre | 9:00am to 5:00pm | (02) 6457 5394 |
| Perisher Snowsports Hire | Lower Level | 8:00am to 5:30pm | (02) 6459 4524 |
| Slopestyle Mountain Sports | Upper Level | 8:00am to 5:00pm | (02) 6459 4480 |
| Slopestyle Mountain Sports | Lower Level | 8:00am to 5:00pm | (02) 6459 4476 |
| Snowsport - Fashion and Essentials | Upper Level | 8:30am to 5:30pm | (02) 6457 5022 |
| Slopestyle Demo Centre | Lower Level | 8:00am to 5:00pm | (02) 6459 4757 |

Smiggin Holes
Mountain Air Gifts
Smiggins Arcade
8:30am to 5:30pm
(02) 6457 5384
Perisher Snowsports Hire - Smiggins Outlet
End of the
Smiggins Arcade
8:00am to 5:30pm
(02) 6457 5070
Slopestyle Mountain Sports
Ticket Office, Smiggins Arcade
8:00am to 5:30pm
(02) 6457 5070
Snowear @ Smiggins
Smiggins Arcade
8:00am to 5:00pm
(02) 6457 5691

Perisher Skitube Terminal
Perisher Post Office
Upper Level

Summer: 10:00am to 2:00pm

Winter: 9:00am to 5:00pm

(02) 6457 5230
Perisher Pharmacy
Upper Level
8:30am to 5:30pm
(02) 6457 5652
Skiducci - Fashion and Accessories
Upper Level
8:30am to 5:30pm
(02) 6457 5439
Mountain Air Gifts
Upper Level
8:30am to 5:30pm
(02) 6457 5488
Supermarket + Bottle shop
Upper Level
8:00am to 6:00pm
(02) 6457 5555
Hans Oversnow Transport
Upper Level
24 hours a day
(02) 6457 5334 or
0418 485 144

Blue Cow
| | | | |
| --- | --- | --- | --- |
| Slopestyle Mountain Sports | Platform Level, Blue Cow Skitube Terminal | 8:00am to 5:00pm | (02) 6459 4631 |

Guthega
| | | | |
| --- | --- | --- | --- |
| Perisher Snowsports Hire - Guthega Outlet | Guthega Centre | 8:00am to 4:30pm | (02) 6459 4653 |
| Slopestyle Mountain Sports | Guthega Centre | 8:30am to 4:30pm | (02) 6459 4653 |

Bullocks Flat
Perisher Snowsports Hire - Bullocks Flat
Bullocks Flat
Skitube Terminal
7:30am to 6:00pm
(02) 6459 4581
Slopestyle Mt Sports Bullocks Flat
Bullocks Flat
Skitube Terminal
7:30am to 6:00pm
(02) 6459 4581
Bullocks Ski & Board Works
Bullocks Flat
Skitube Terminal
7:30am to 6:00pm
(02) 6459 4581
* (Winter Only)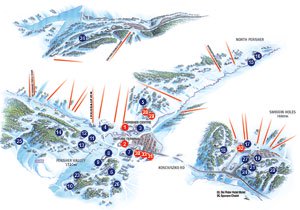 Click here to see the village map