Perisher Accommodation Options
Home | Perisher | Hotel | Ski Rider
Ski Rider
Location: Perisher
Rating: Value
Type: Hotel
Ski Rider is the largest hotel in the Kosciuszko National Park, only 11km from Perisher Resort. The place to stay if you want to be close to the snow but not pay on-snow prices.
Parking is easy, plentiful and FREE. Once you get to Ski Rider you can catch the FREE shuttle bus to Perisher and Smiggins up to nine times per day.
Hot breakfasts and delicious evening meals are included in all packages. Special dietary needs are catered for and menus change daily. In the Dining Room feast on a three course meal. In the Grill, cook your one course char grill steak, chicken or seafood, all served with vegetables and salad. The Grill is subject to limited seating.
There are two bars with FREE entertainment in one such as live music, specialist performers, trivia nights and theme nights. If you prefer a quieter night, relax by the open fire, amuse yourself in the games room or unwind in the guest TV lounge.
Ski Rider has comfortable 2 to 6 share rooms with ensuites, central heating, tea and coffee making facilities and ski, board and drying racks. Ski Hire is on the premise with all the latest gear to hire, which saves lugging extra baggage from home and gives you the flexibility to upgrade or change. Luggage storage and change rooms with showers are also available before check in or after check out.
Amenities:
Free Shuttle Bus
On Site Ski, Snowboard & Clothing Hire
On Site Parking
Family style entertainment during School Holidays
Bistro Chargrill
2 Bars - one with open fire
TV room

Games Room - Pool Tables, Arcade Games & Juke Box
Guest Laundry - ironing facilities
Luggage storage and change room on arrival and departure
Gift Shop
Central Heating
Amenities listed represent whole property and may not be available in individual rooms.
Room Types
2 Share – 1 Queen or 2 Single Beds
3 Share - 1 Queen and 1 Single OR 1 Bunk Bed and 1 Single
4 Share – 1 Queen and 1 Bunk Bed OR 2 Singles and 1 Bunk Bed
5 Share – 1 Queen, 1 Single & 1 Bunk Bed OR 3 Singles & 1 Bunk Bed
6 Share – 1 Queen & 2 Bunk Beds OR 2 Singles & 2 Bunk Beds
Most Queen beds are king sized.
Feature Package
Free Adults and Kids

From $600 per adult for the first 2 adults and everyone else only pays for meals!
Includes 5 nights accommodation, 5 full hot breakfasts and 5 dinners.
Rate above is NOT available 30 June to 24 August 2013. Rates will vary depending on time of the season.
Subject to availibility. Conditions apply.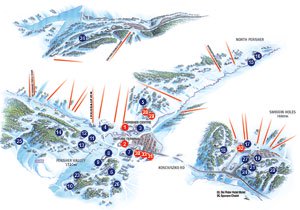 Click here to see detailed village map and information.
or call 1300 655 811 to speak with a holiday specialist.


Click here to make another selection.