Wahoo! Smiles, stacks and splashes at the Perisher Pond Skim!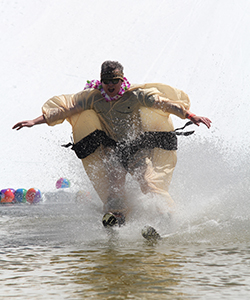 Find your photos!
Everyone grabbed their best (or worst!) beach gear or fancy dress and came along to Pond Skim! Check out the video to watch the skimmers do their best to skim across the pool in Perisher!
What's that? You didn't know we had a pool in Perisher? Well we sure did, and it was the place to win great prizes from some of our awesome sponsors! The prize pool included great stuff from SkullCandy and PlayStation, awarded for the Best Male, Best Female, Best and Worst Skim, Best Fancy Dress!
Thanks to everyone who came along - especially the crowd for cheering on the skimmers! See you next time for another dip in the pond!