Perisher, Australia's Favourite Ski Resort, continues to offer guests an experience of a lifetime and there's nothing quite like skiing and boarding freshly groomed terrain.
Snow grooming ensures guests are provided with safe and high quality skiing and snowboarding surfaces day in day out.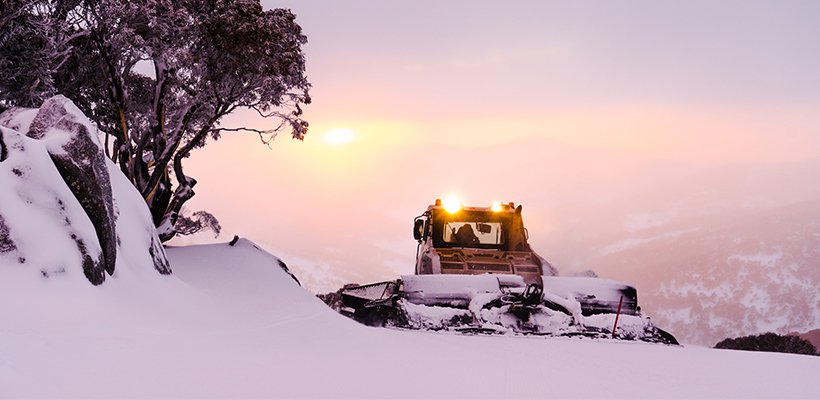 The Snow Cat
Perisher is home to the largest fleet of snow groomers (snow cats) in Australia with 20 machines including; 4 winch cats and 5 specific terrain park cats working every night to keep the mountain in tip, top condition.
Perisher's snow cats range from the a Bombardier, which is used as the Pipe cutter to the latest Prinoth Bison X. Ongoing investment in grooming machinery continues with the purchase and addition of another AU$410,000 Prinoth Bison X winch snow groomer to the fleet this year. This is the third Bison X snow groomer added to the Perisher grooming fleet in recent, taking the total investment in excess of AU$1.2 million.
How does it work?
A snow grooming machine has two large rubber and steel tracks that disperse the weight of the machine evenly across the snow surface and cut into the snow to assist with climbing. Mounted on the front is a multi-directional blade that cuts and levels the snow surface before driving over it. A power tiller on the rear churns the snow to an even consistency before a large, heavy comb then drags across the surface leaving a corduroy finish on the snow.
The ultimate snow grooming machine can climb steep slopes, push heavily compacted snow and leave a seamless trail of corduroy in its wake. Specialty machines can winch on extremely steep terrain and have attachments for carving perfect half-pipes and other features.The blades, which are mounted on the front of the machines, have twelve movement capabilities which allows difficult-to-access snow to be groomed on the slopes as well.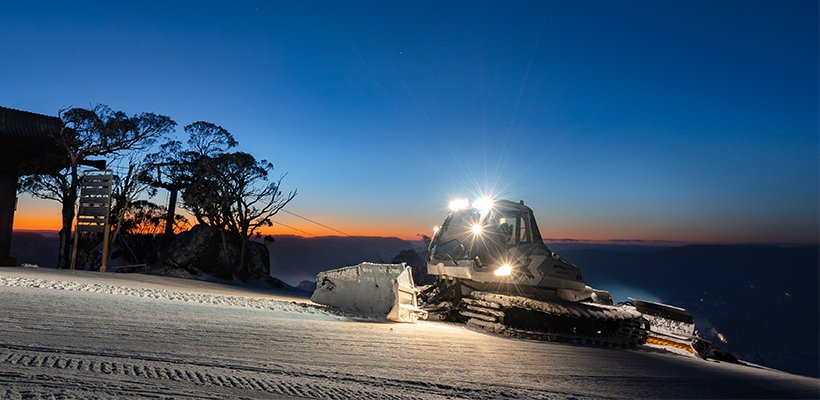 The Crew
The grooming team have one of the most important jobs on the mountain. They are responsible for turning lumps and bumps into turn-tastic corduroy, moving and farming snow, building, maintain and reshaping terrain parks and pipes, and constructing competition standard mogul and downhill race courses. Groomers are also a crucial part of operation on a pow day, often required to dig out lifts when things get a little deep.
At present the Perisher grooming crew has 225 years of experience between them. There are 40 staff from around the world - 32 groomers and 8 park staff on day crew. Perisher operators are among the best in the world in this highly specialised field, many work back-to-back seasons often sought out for their skill and work culture.
The Perisher grooming team also have round-the-clock mechanics working alongside them, the both support and keep the team (snow cats) going throughout the long winter season.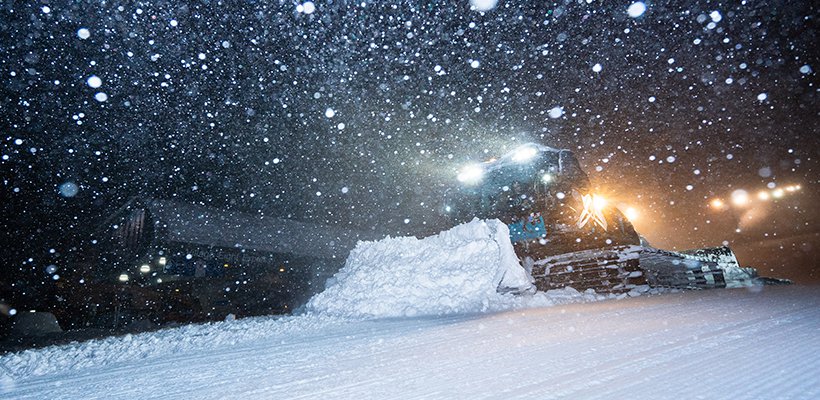 The Mountain
It's all about the corduroy! (Well, sort of) The Perisher Grooming Team can groom / maintain a huge amount of skiiable terrain in a single night including: Over 100 trails, 5 parks, 2 pipes, 3 rider cross courses, 1 world-class mogul course and lift tracks inc. uploads and unloads, PLUS more across the 4 resort areas of Perisher Valley, Blue Cow, Smiggin Holes.
During a winter season, the grooming fleet can log up between 12,000 and 15,000 hours depending on the season and groom approximately 33% of the 1,245 hectares of skiable area most nights (about 412 hectares)
Fun Facts:
1 Snow Cat can cover up to 100km per night.
Perisher groomers winch up to 20 runs per night.
The Front Valley Half Pipe takes approx. 100 hours of machine work to complete and approx. 6 hours per night in maintenance .
The Perisher Express Way takes up to 2 days using 4-5 machines to open.

The Work
Grooming is predominantly a night operation consisting of two shifts - 4 p.m. to 12 midnight and 12 midnight to about 9 a.m. In some circumstances grooming may also occur during the day, however this is kept to a minimum for safety reasons
A daily grooming report is available to the public each morning on the online Snow Report or via the Perisher App.