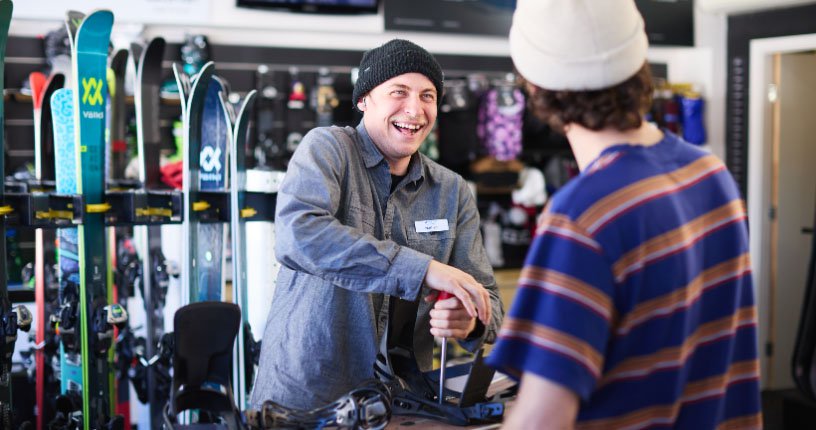 22 May 2023
So you've booked your lift tickets, locked in some lessons, and sorted your accommodation. But, there's still something missing. Your rentals!
No where is more convenient to rent your snow gear from than Perisher. Whether you're a beginner or an expert, Perisher has a huge range of high-quality ski and snowboard rental equipment available – all just metres away from the ski lifts.
Benefits of Renting with Perisher
When you rent with Perisher, you can save up to 35% when you buy online at least 7 days ahead! Epic Australia Pass holders also receive 20% off all rentals for the whole season. But that's enough about discounts, let's get into convenience of snow gear rental at Perisher.

Everything in one place
At Perisher Snowsports Rentals, you'll find all your snow gear hire needs in one place. We have you covered whether you're looking to hire skis, boots and poles, snowboards and boots, helmets and wrist guards, kids ski gear and for all your snow clothes hire needs. We're your one stop shop, and we have it all on mountain!
Quality matters!
When it comes to ski gear hire, quality matters! Ever had the frustrating experience of renting poorly tuned, old skis, or having had ski boots fitted that are too loose or crush your foot? Make no mistake, having the right gear can make or break your trip.
At Perisher Snowsports Rentals, we have the latest fleet of high-quality skis, snowboards and boots to ensure both comfort and performance on the slopes. Our wide range of quality snow jacket, pant and helmet rentals will allow you to breathe, while keeping you warm, dry and safe.
Looking for extra performance? Checkout our Performance Skis and Snowboards for a step up in stability and edge grip for intermediate and advanced skiers! Or try the latest and greatest demo skis and snowboards at the Slopestyle Demo Centre.
Swap your board for skis or your skis for a board!
You've decided to snowboard for the first time, and you are loving it! But let's just say you want to switch things up for a day or two and try skiing... No problem! Renting your gear at Perisher means all you need to do is visit one of our three Snowsports Rental and swap or your board for skis or vice versa at no extra cost.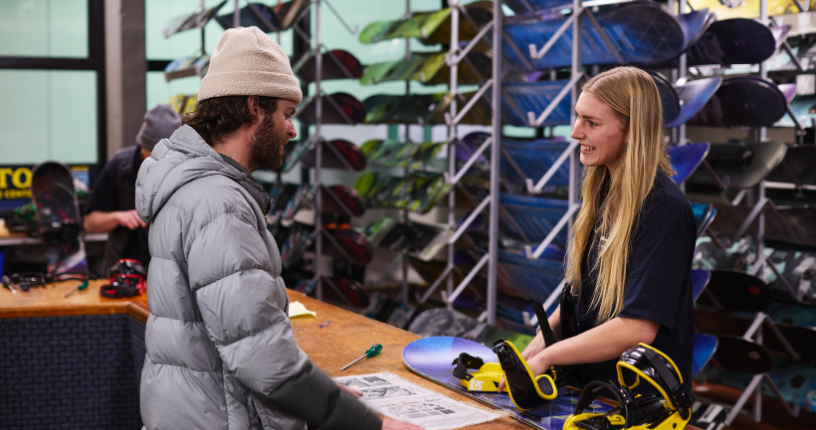 On mountain repairs and adjustments
Boots a little too tight, or your helmet a little too loose? No worries! We are happy to refit you with any gear you feel isn't quite right. Drop by any Snowsports Rental location to have your bindings adjusted, your boots refitted or whatever else isn't working for you.
Three Snowsport rental locations for convenience
Sometimes, Snowsports gear can feel comfortable on the ground, but not so much on the mountain. That's why we offer free swap-outs at any three of our Snowsport Rental locations, regardless of where you originally rented from. Drop by any three of Perisher's Snowsport rental locations to swap out your gear at no extra cost.
Waxed and ready to go
There is no need to fiddle around with waxing and tuning, our skis and boards are prepared and ready to go straight away, saving you the hassle and cost of looking after equipment yourself.
Hassle-free travel
Transporting bulky snow equipment through airports, buses, and cars can be tiring and inconvenient. Renting Snowsports equipment at Perisher means you can avoid the hassle of lugging your gear and save more room in your car on the way to your accommodation. Additionally, when you rent your ski or snowboard equipment from Bullocks Flat, we throw in free overnight storage (at Bullocks Flat).
How to rent at Perisher
It is easy to rent Snowsports gear at Perisher online by heading to the Snowsports Rental page. Renting online means you don't have to deal with paper forms, making your rental experience streamlined.
We look forward to seeing you on the slopes shredding with our Perisher Snowsports gear!