Keeping you, our employees and communities safe
We are incredibly excited to welcome you back for skiing and snowboarding. Skiing and snowboarding at our resorts will be different this season, but we feel confident we'll provide a great guest experience. If we see further easing of physical distancing rules, we will adjust our operations to expand services while continuing to prioritise safety. Thank you again for your patience as our season plans evolve in relation to the impact of COVID-19 on operations.
The health and safety of our guests, employees and communities is our top priority. COVID-19 presents us with an unprecedented situation, and we want to share our enhanced safety protocols with you.
In accordance with government guidance, current restrictions and the latest safety advice, we have implemented the following measures that will help ensure the health and safety of our guests and staff.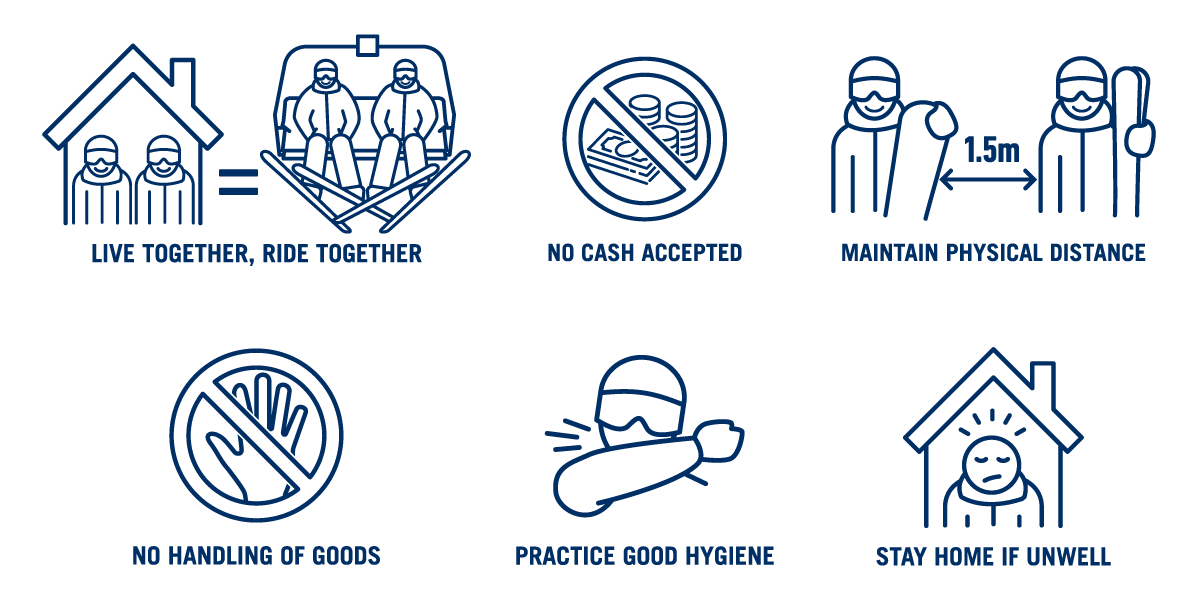 WHAT TO EXPECT:
We are open. To provide a safe experience for everyone, all skiers and snowboarders are requested to:
PRE-PURCHASE YOUR PASS OR LIFT TICKETS: Due to resort capacity limits, guests must pre-purchase season passes or lift tickets online well in advance. Same-day lift ticket sales will not be available.


MAINTAIN SOCIAL DISTANCING: Guests are requested to maintain 1.5m physical distance from other people at all times in the resort. Guests who live together will be allowed to ride lifts together while others will need to physically distance. Guests will be requested to refrain from congregating in large groups.
We will be limiting the number of people in rental, retail and ticket outlets as well as using signage to indicate safe distancing indoors. All our premises will be cashless this season.


DOWNLOAD THE RESORT APP: Stay informed with the most up-to-date resort information.
Click here to download.


FOOD & BEVERAGE: Food and beverage operations and indoor seating will be limited. We encourage you to pack your own snacks and lunch.


NO TOBOGGANING & SNOW PLAY: Following NPWS advice tobogganing and snow play is not permitted. The Toboggan Slope and Tube Town will be closed for the season.


STAY HOME IF UNWELL: Please stay home if you are sick or are considered high risk. Do not visit the resort.


RESPECT THE RULES: You may respectfully be asked to leave the resort if you do not follow all hygiene and physical distancing guidelines.


DOWNLOAD THE COVID-SAFE APP: Click here to download.
---
Your Most Frequently Asked Questions:
COVID-19 is presenting our teams with an extremely high volume of enquiries. They are all important to us and we are doing our best to get to them.
We want you to have all the information you need for a safe and seamless snow experience, so we have put together your most frequently questions. Please check the information below for updates and answers:
For questions regarding Epic Australia Pass, Epic Pass, Epic Military Pass & Pass Holder Access Reservations, please click here.
Health & Safety:
We are committed to the health and safety of our guests, employees and communities. It is our top priority.
COVID-19 presents us with an unprecedented situation, and we are implementing the following protocols in our resorts to put your safety first. 
Key Changes to the 2020 Season:
Refunds & Cancellation Policy: