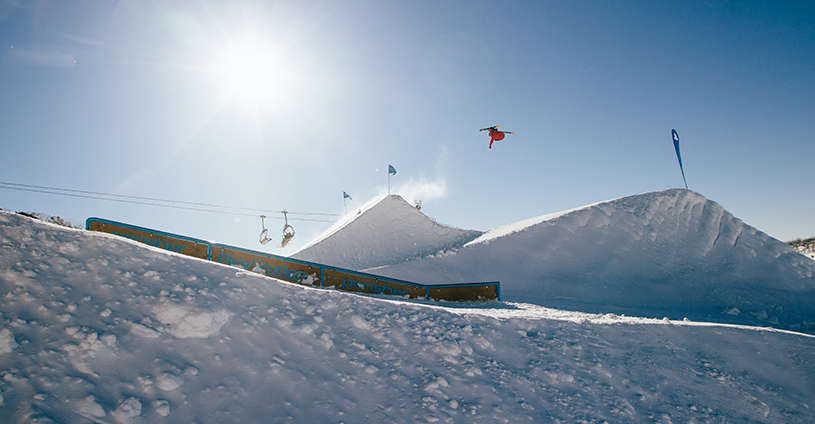 Charles Beckinsale is a very familiar name within the snow industry, and for good reason. He can be found leading the innovative Terrain Park team at Perisher through the Australian winter and now is taking on the exciting role of designing the course for the 2016 World Championships of Snowboarding Slopestyle and Big Air events in Yabuli, China.
Throughout the Australian winter season, Beckinsale leads the team to build six different Terrain Parks for Australia's largest ski resort, Perisher. Many of these parks are progressive, providing all guests with the ability to ride the park and aspire to improving their skills.
"In my experience when the flow of the course and all the transitions match up well, that's when riders feel comfortable to push the progression, which is what we consistently want to deliver."
Understanding the flow of the park is extremely important for Beckinsale, and this is why you will often see Charles riding the parks here at Perisher himself.
The features and layout built in Perisher's PlayStation Slopestyle Terrain Park for the 2015 Mile High event was an elite training and competition ground some of the world's best athletes including Bobby Brown, Joss Christensen, Eric Willet, Russ Henshaw, Scotty James, Tom Wallisch, Mark McMorris, Jamie Anderson, Jess Rich and more. This was not only inspiring for the athletes riding the course, but also for Beckinsale himself.
"I want Perisher and the Mile High event to be exciting for every athlete when they come back each year, so it's important that it always evolves, and the best way I see that happening is to have these athletes involved" says Charles.
Along with developing new ideas for features and terrain parks at Perisher, Charles has great relationships with the world's elite ski and snowboard Slopestyle athletes that allow for unique builds, "It's great to talk to my favourite athletes about the different features they have been riding around the world, and understand what they want to ride in the future."
Working together with the athletes to develop features exclusive for films shows the passion and attention to detail that Beckinsale places on his work.
The World Championships of Snowboarding kick off from March 8-16, 2016 and will include up to 300 male and female athletes competing in Halfpipe, Slopestyle and Big Air events. The World's best athletes will battle for a total of US$500,000 in prize money; while also getting a glimpse at the location that has been awarded hosting rights to the 2022 Winter Olympics.