---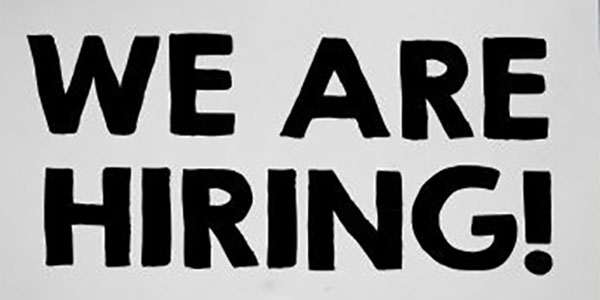 Applications Now Open for the 2019 Winter
With 2019 now well underway we've set our sights eagerly on the upcoming winter season and wanted to let you know that we have started recruitment and are currently taking applications for the 2019 winter. By logging onto our Perisher Jobs website candidates will have the opportunity to join the Perisher team.
Have any friends, family or colleagues that want to join you at Perisher this season? Well now is the time to Refer-A-Friend for your chance to win some HUGE prizes!
Refer a Friend and Bring on the Ka-Ching!
We're running our super lucrative Refer-A-Friend program again for 2019 with a whopping $4,500 worth of major prizes up for grabs. To be eligible, you must either return to work at Perisher this season or be a 2019 Epic Australia Pass Holder and the person you refer must be a new staff member and note your full name as the person who referred them when prompted during their application.
The winner of the Grand Prize will win themselves a $1,000 Travel Voucher plus $1,500 Perisher Money and two lucky Runners-Up each receiving a $500 Travel Voucher and $500 Perisher Money. For each new 2019 staff member you successfully refer you will score a $25 Perisher Money credit on your Staff Pass.
So, what are you waiting for? Get your mates to apply by no later than Sunday 28th April 2019. (LTPS/19/31424)
Click here to read the full Terms and Conditions
---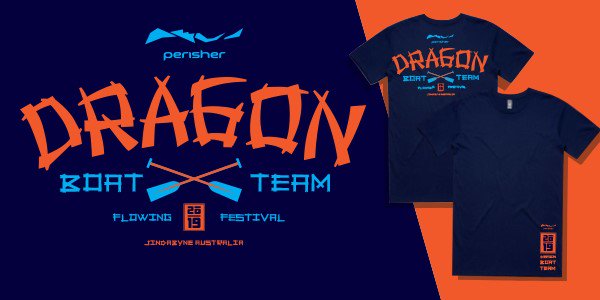 Flowing Festival 16th &17th February - Spots still available!
Come and experience this fantastic event set in Banjo Paterson Park on the foreshore of beautiful Lake Jindabyne. Community team training and the 2km Sports Team dragon boat race are held on Saturday afternoon, while the main event kicks off Sunday with the 12th Lake Jindabyne Dragon Boat Challenge, High Country Challenge for community teams, market and food stalls and amusement rides. Perisher are defending champions of the Mountain Challenge and we need you to keep the top spot! We still have a few spots open to join a team for this biennial community event and encourage everyone to get involved.

A team consists of 20 people (10 males and 10 females) plus the sweep and drummer provided.
All Perisher paddlers will receive:
Goodie bag including Perisher t-shirt and hat;
Cold drinks, snacks and BBQ throughout the day on Sunday;

Post-race drinks at Jindabyne Brewery;

Bragging rights!
No previous experience is necessary as training is provided on Saturday afternoon for all teams. All equipment will be provided and experienced helms will steer your boat. Safety and skills training, carried out by Dragon Boat NSW will be held on Saturday afternoon with all race events on Sunday. Perisher are guaranteed 2 heats and a final race.

The races are exciting and spectacular with an adrenaline charged 200m sprint in a forty foot long dragon boat brightly painted and decorated with a dragons head and tail. Dragon boating is by nature a social sport requiring large numbers of people to work together developing strength, endurance and friendships.
If you, your family members or friends are interested in joining the Perisher Team please contact Steph in Human Resources on Ext 4600 or email Perisher HR for more details:
This email address is being protected from spambots. You need JavaScript enabled to view it.
---

Perisher's Commitment to Zero – Update
As part of Perisher's Epic Promise goal of zero waste to landfill we have taken on board the help of a team of waste consultants from Future Giving. Over the year they will be assisting us in improving our methods of measuring waste, developing processes within the resort that will reduce waste and provide us with contacts from the industry who have valuable knowledge and experience in zero waste. Frasers Property Australia who are developing a zero waste shopping centre in Melbourne, and the Vice President of Sustainability from the University of California who rolled out a zero waste strategy across 10 campuses are some of the contacts available to us.
The consultant's knowledge and experience in this field will be a great assistance to us. We are excited for the year ahead and hope to make great strides towards our zero waste goal. Our aim for this year is to go beyond baselining our waste measurements to include accurate measurement processes using new technologies and practices while incorporating successful known methods for reducing our waste to landfill for the upcoming year.
---
Podcast - From Eco-Terrorism to Environmentalism
In the 20 years since Vail Mountain was subject to a fire-bombing attach by eco-terrorists, Vail Resorts have undergone a metamorphosis to one of the leading environmental companies in the world. In this third podcast episode we are exploring the impact of the arson attack, our first forays into wind credits and why we eventually switched to forest fire restoration, the criticism we received for the political donations by our Political Action Committee, the acquisition of Whistler Blackcomb and the formulation of our Commitment to Zero, to what the future holds.
You are encouraged to take the time to listen to this and other podcasts in this series as these stories are a fantastic way to learn about the company and the people who make it what it is today.
---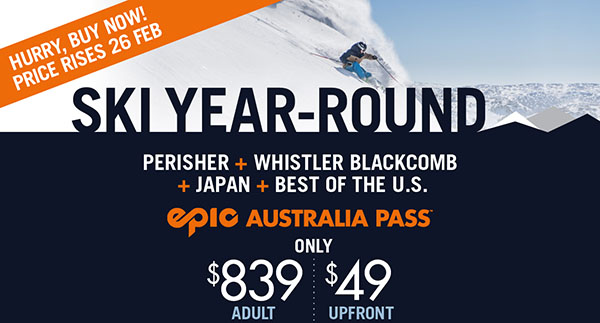 Hurry the Epic Australia Pass Rises 26 February!
For crying out loud let your friends and family know that the Epic Australia Pass price rises on 26 February! We know you love skiing and boarding and it's time to share that love around.

They'd best be quick, it's the last chance to lock in the Epic Australia Pass for $49 upfront with the balance in May and for goodness sake, add Skitube because its price is rising too.

The Epic Australia Pass is the best value season pass for Australians and connects Perisher with Whistler Blackcomb, Hakuba Valley Japan, Rusutsu Japan and the Best of the U.S. all on one incredible pass.