---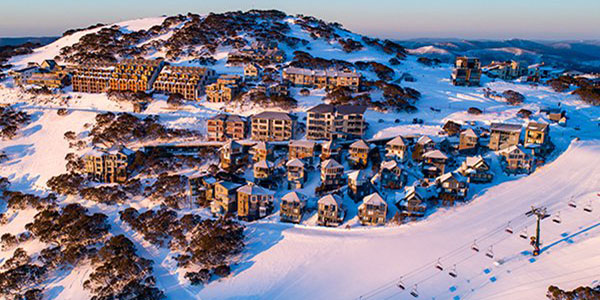 Falls Creek and Hotham Join the Family!
We have all heard by now that Vail Resorts are in the process of acquiring Hotham and Falls Creek in Victoria and to say the least we are all stoked. As noted in the press release on Friday Rob Katz, chairman and chief executive office of Vail Resorts says "We are thrilled to welcome the guests and employees of both Falls Creek and Hotham into the Vail Resorts family and further strengthen our position in Australia, which is one of our most important international markets. The acquisition of the leading mountain resorts in Victoria is part of our continued strategy to drive season pass sales and build loyalty with guests from around the world, and after our success connecting with skiers in Sydney and across New South Wales since acquiring Perisher in 2015, we have a huge opportunity to create a deeper connection with Melbourne and broader Victorian skiers and riders."
The acquisition will provide staff at all three resorts the opportunity for improved career development, learning opportunities and a great way to develop best practices across a variety of areas.
When the transaction closes, the 2019 Epic Australia Pass and 2018-19 Epic Pass will include unlimited, unrestricted access to Falls Creek and is expected to include unlimited, unrestricted access to Hotham, subject to certain approvals. The Epic Australia Pass is the best value season pass for Australians, providing access to world-class skiing and riding at the largest and most celebrated resorts in the U.S., Canada, Japan and Australia. At just AU$859 for adults, AU$483 for students and AU$644 for seniors, the Epic Australia Pass pays for itself in under four days, with year-around skiing in Australia, Japan, Canada and the Best of the U.S.!
---

Refer a Friend and Bring on the Ka-Ching!
We are in full swing with 2019 recruitment for the upcoming winter and are running our super lucrative Refer-A-Friend program again for with a whopping $4,500 worth of major prizes up for grabs.
To be eligible, you must either return to work at Perisher this season or be a 2019 Epic Australia Pass Holder and the person you refer must be a new staff member and note your full name as the person who referred them when prompted during their application.
The winner of the Grand Prize will win themselves a $1,000 Travel Voucher plus $1,500 Perisher Money with two lucky Runners-Up each receiving a $500 Travel Voucher and $500 Perisher Money.
For each new 2019 staff member you successfully refer you will score a $25 Perisher Money credit on your Staff Pass.
So, what are you waiting for? Get your mates to apply by no later than Sunday 28th April 2019. (LTPS/19/31424)
Click here to read the full Terms and Conditions
---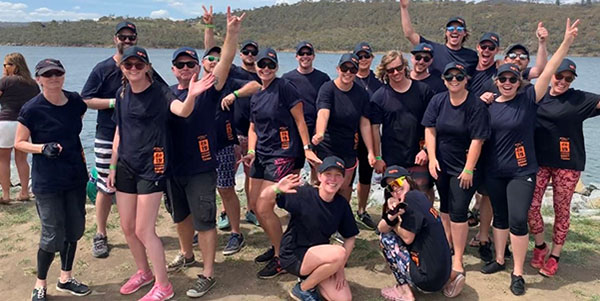 Perisher Dragon Boat Crew 2019 - thanks everyone!
Dragon Boats Wrap Up
The biannual Flowing Festival was held over the weekend of 16th & 17th February with a great turnout to the event showing commitment and dedication to the community and Perisher encompassing a number of our Values - Have Fun, Do Good and Be Safe.

Well done to those who participated in the event doing their best in keeping up with the other teams. We are unable to claim our name on the trophy this time around, but nevertheless a great day was had by all that attended. A big thanks to all involved in the organization of this event, and a special mention to Steph for her tireless work in pulling this all together.
---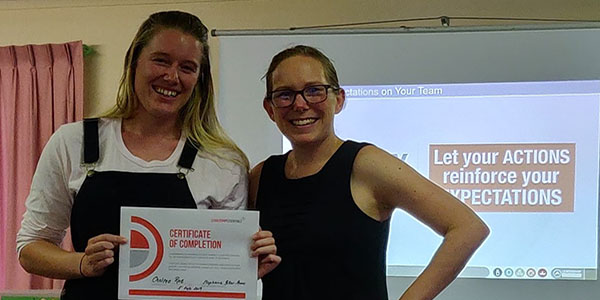 Chelsea recieving her certificate from Steph
Leadership Graduate - Congratulations Chelsea!

A quick shout out to Chelsea Rae for being the latest graduate of the Basecamp and Leadership Essentials program.
Chels has completed the foundations program which included gaining a deeper level of understanding of what it means to exemplify each leadership competency, Drive, Develop, Outfront, Reimagine, Connect and Passion, and develop five essential leadership skills, know yourself, communicate effectively, engage your team, manage expectations and develop talent.
---
CSS - Coffin-Siris Syndrome - A very rare genetic disorder
Approximately 200 people world-wide and 17 in Australia have been diagnosed with CSS, the oldest being 15 years old and the youngest only six months old. Specific symptoms of this rare disorder include mild to severe intellectual disability, developmental delays, frequent respiratory infections, poor muscle tone, abnormalities of the eyes and head, seizures, heart complications and ADHD.
For those unaware, David Kelly who works at Smiggins Workshop and his beautiful wife Nat have been through countless hospital visits, medical appointments and procedures and are still uncertain of what the future may hold for their son Declan. Declan is 8 years old and was diagnosed with CSS in September 2018. Since his son's diagnoses, David and Nat have done everything they can to understand the disorder and have reached out to other families in the same situation.
Dave continues his campaign to fundraise not only for his son and family but for other families struggling as well. A conference is scheduled to be held in Jindabyne later this year so that families can share experiences, compare notes, medications, therapies and debrief each other. The leading geneticist in this field from the USA has been invited to the conference, and at this stage is seriously considering making the journey over.
A fundraising event will take place on 29 March 2019 at Rydges Horizons in Jindabyne, where (for $99 per person) there will be canapes followed by a sit-down meal, dessert and a two-hour beverage package. Guests will be entertained with live music by Corroboree Frog and Scott Harris, as well as auctions, raffles and prizes. For tickets visit www.trybooking.com and search for Uniting CSS Families. You can also find out more information and keep up to date on the event via the Facebook page at the link below.

Money raised is being managed by a 'fair trading' registered charitable fundraising authority with some of the money to be used to support those families who need assistance with travelling cost to attend the Jindabyne Conference. Remaining funds will be reserved for any emergency medical costs a family may encounter.