---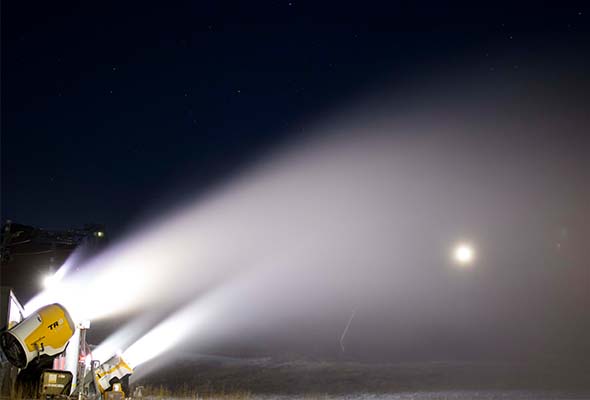 Snowmaking Underway!

Our snowmaking team kicked off 2019 operations with the first snowmaking for the season this week. With natural snow falling as well, things are feeling very wintry! Now is the time to dust off those skis or boards and get your equipment waxed and ready to go.
We look forward to seeing you around the resort making the most of what is on offer and having an Experience of a Lifetime!
---
New Appointees
Recently a number of staff commenced new roles with us, for some it's the first time they have worked at Perisher while others are existing staff who have moved into new roles.
Peter Taylor has moved from his previous role as Area Manager – Front Valley to South Perisher Area Manager;
Geoff Longstone has been promoted from Area Supervisor – Blue Cow to Area Manager – Front Valley;
Matthew Norman has been promoted from Lift Fitter – Blue Cow to Area Supervisor – Blue Cow;
Dave Lawrenson has moved from South Perisher Area Manager, now taking on the role as Assistant Skitube Manager located at Bullocks Flat;
Rebekah Birkett – Human Resources Trainee/Seasonal Return to Work Coordinator;
Kristine Cook – Smiggins Workshop Trainee.
Congratulations to all the above employees on their new roles and we trust they will bring new ideas and perspectives!
---
Save The Date
The afternoon of 28 May 2019, for Perisher's Pre-season Conference at The Station. More details to follow.
---
Perisher Online Induction
HR have commenced sending out the Perisher online induction to all employees and appreciate your prompt response to the completion of your pre-season processes. The online induction program is sent to your Bridge training account. To ensure a smooth onboarding process for you, we ask that you complete this (and any further pre-season activities sent to you) in a timely manner.
---

Have Fun with the Winter Sports Club!
With temperatures starting to drop and the offficial season start just around the corner, it's time for you and any eligible dependents to start taking advantage of the benefits available to you.
Let your kids be part of something great this winter and slide into a once in a lifetime adventure by joining the Sunday Development programs! Book in before 31 May to lock in the best available price. All staff receive a discount on these programs so please contact HR (This email address is being protected from spambots. You need JavaScript enabled to view it.) if you are unsure of what discounts apply and to get your discount code / procedure.
With Mini Mites Ski 3-4 years, Junior Development Team Ski & Snowboard 5-7 years, Development Team Ski & Snowboard 8-14 years, All Terrain Teens Ski & Snowboard 15+ years and Masters programs there is a range of great programs to suit the whole family.
Explore Perisher's amazing four resort areas, training with qualified and experienced coaches, progressing ski or snowboard skills in a fun and friendly environment.
---

Snowy Mountains Trade Fair - The Station 14 - 15 May
The Snowy Mountains Trade Fair has been held for over 30 years and is the ideal opportunity for suppliers to Southern New South Wales and Northern Victorian industries to show case their full range of products to people who make or influence purchasing decisions in their organisation.
This is an annual event for potential buyers to gain a full appreciation of an exhibitor's product/services whilst at the same time developing a personal and direct relationship with the suppliers.
Doors open from 10.00am each day on Tuesday, 14 May and Wednesday, 15 May 2019
The Station, 8228 Snowy River Way Jindabyne NSW 2627
For further details on visiting the Snowy Mountains Trade Fair contact This email address is being protected from spambots. You need JavaScript enabled to view it. via email.
---

Winter Alpine Driving
A reminder to drive defensively and practice courteous, safe driving and be prepared for all conditions as snow and ice risk increases.
Along with snow and ice on the roads, it is likely you will see a lot of wildlife on and around the roads when travelling to and from work. Kangaroos, deer, wallabies and wombats are all common on the roads. They can be hard to spot, and their behaviour can be unpredictable. It is best to slow your speed and be ready to stop to avoid an accident if you see an animal on or near the road so keep your eyes on the road and take extra care at night.
---

2019 Federal Election - Saturday 18 May
Polling places listed below for the Snowy Monaro area are open for voting on Saturday 18th May from 8.00am till 6.00pm.
Jindabyne - Jindabyne Memorial Hall, 45 Kosciuszko Road Jindabyne.
Perisher Valley – National Parks & Wildlife Offices, 9914 Kosciuszko Rd, Perisher Valley
Berridale – Berridale Community Hall, 8 Florence St, Berridale
Cooma – Cooma Public School, Commissioner St, Cooma
Dalgety – Dalgety Public School, Cooma St, Dalgety
If you are unable to get to a polling place on Election day, you can vote at the early voting centre at Office of Sport, Jindabyne Sport & Recreation Centre 207 Barry Way during the times listed below.
Monday 6 May – Thursday 9 May 8:30 –17:30
Friday 10 May 8:30 - 18:00
Saturday 11 May 9:00 –16:00
Monday 13 May – Tuesday 14 May 8:30 –17:30
Wednesday 15 May 8:30 –18:00
Thursday 16 May 8:30 –17:30
Friday 17 May 8:30 –18:00
---
Staff Feedback - Got any questions for Senior Management?