---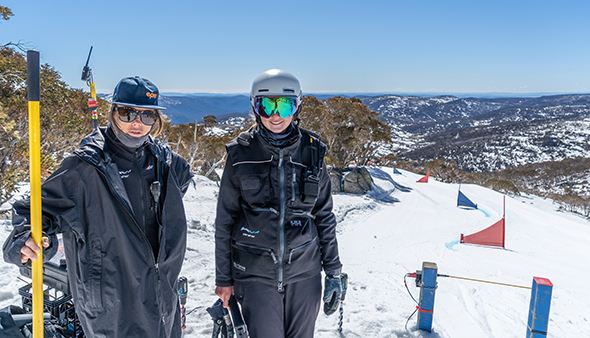 Hard working Perisher Race Department staff from 2018 - thanks for a great day!
Spring Staff Races and BBQ
In appreciation of all your hard work this season we will be holding a Spring Staff Race and BBQ on Thursday 19th September.
Where: Jump City Rider Cross Course – Centre Valley
When: Thursday 19th September
Time: 9:00am till 3:30pm
Registration: All competitors must register on-line before 6pm Wed 18th September
Helmets are compulsory to race.
Once registered you can race at anytime between 9:00am and 3:30pm and staff from all sections are encouraged to race. There will be prizes for teams within sections and the "Best Five" times overall.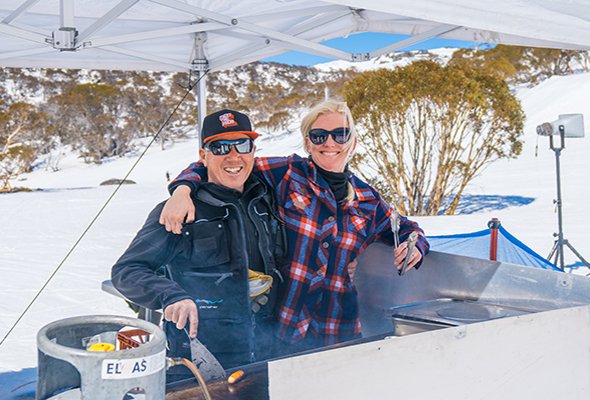 Barney and Saleena hard at work last year!
---

Perry's Shave for Cancer
Perry Gabriel, one of our brave fitters from Front Valley, is planning to shave his luscious locks off to raise money for the Cancer Council! To support Perry's mission to raise $5,000, please follow the link below.
I'm challenging myself and others to shave it all off in support of the Cancer Council in their mission for a cancer free future.
Because 1 in 2 Australians will be diagnosed with cancer in their lifetime, I'm losing my locks to raise funds and show my support.
Please sponsor me to support cancer research and provide vital services for Australians living with cancer.
Thank you for your generous donation. Together, we can free the future from cancer.
Perry Gabriel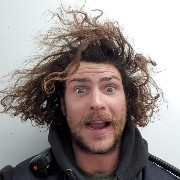 All this has got to go - good on you Perry!
---

US Employment Opportunities
Keen to spend a winter in the Northern Hemisphere?
Some of our sister resorts in the US are seeking suitably qualified and experienced Housekeepers, Cooks, Ski Instructors and Snowboard Instructors to join the US Vail Resorts family for the 2019-20 winter on H2B Visas.
For further information and contact details for each of the roles at the different resorts, click here:
---

Brewski Festival and Funky Frothies
One of the most popular events on the calendar this season, and a highlight of the Perisher après season, is the Brewski Festival!
Come and celebrate the expansion of the craft beer selections available across the slopes. Ski and board up a thirst, cruise on in to taste some of the best craft beers and ciders that Australia has to offer from a range of breweries and distilleries across the nation!
When: Saturday 14th September. 11:00am - 3:00pm
Where: Blue Cow Terminal Building: Blue Cow Deck (weather permitting)
Perisher Centre: JAX Café and Bar and Deck area.
The Station, Jindabyne: Happy Jacks Tavern and Lawson's Bar.

Keep the Brewski Festival party going after you've left the mountain! Swap out your ski boots for your dancing shoes and head to The Station.
Funky Frothies is the Brewski Afterparty with Free Tastings, $6 Craft Beers all night, giveaways galore and Yolanda Be Cool will also be putting on a show with support of Circadian Rhythm and Mangers & Bash!
Where: The Station, 8228 Snowy River Way, Jindabyne
When: Doors open 8:00pm, Saturday 14th September
Cost: Free Entry
Free Buses from the Town Centre Jindabyne, Lower Level Carpark from 8:00pm.
---

Volunteer your time and give back to the community on Saturday 14th September
We encourage those of you who are not rostered on for work on Saturday 14th September to volunteer a couple of hours of your time at the Jindabyne Lakeside Scavenge. Last year over 750kg of rubbish was picked up around the shores of Lake Jindabyne! The Scavenge starts from Banjo Patterson Park at 9.00am on Saturday 14th September, so come along and volunteer a few hours of your day helping keep the community clean as we near the end to another successful and memorable winter!
---

Ski Patrol Staff with some of the reused items - way to go team!
EpicPromise – Zero Waste
Most guests' idea of an Experience of a Lifetime does not include a ride in a ski patrol akja or rescue sled. However, should you or a guest ever require ski patrol assistance, it is always nice to know that you will be warm and dry inside the rescue sled.
Ski Patrol were busy during the start of winter installing and upgrading many sled barrels across the resort. Perisher has more than 50 sled barrels placed strategically all around the resort, which are ready to go at a moment's notice. Each sled barrel contains a mattress, a leg splint and blankets all wrapped up in a protective covering in the rescue sled. The barrels were fitted out with shelves made from reused plywood from old terrain park features. The lids and end caps for each barrel were constructed from redundant aluminium signage. A lick of paint and they look great! By reusing these materials, the budget stretched to add more barrels than originally planned.
Thanks to all the staff who have helped with these upgrades, they have been awarded a Capital Brewing Prize Pack for their efforts!
If you have a story about helping Perisher reach its Zero Waste to Landfill goal, send it to This email address is being protected from spambots. You need JavaScript enabled to view it. for your chance to win a Capital Brewing Prize Pack.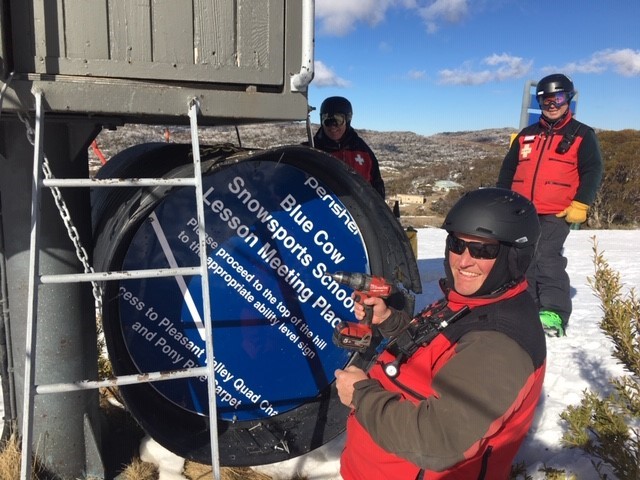 Garth Willmott and crew helping lead the way to a more sustainable resort!
---

R U OK? Day
R U OK? Day is our national day of action dedicated to reminding everyone to ask, "Are you OK?" and to remember every day of the year to support people who may be struggling with life's ups and downs.
Thursday 12th September is R U OK Day and we'd like to encourage everyone to take this opportunity to be mindful of their own mental health and the health of family, friends and coworkers. All it takes is this one simple question to start the conversation.
---
Employee Assistance Program
At Perisher, we have a number of programs in place for staff to be able to seek assistance when they need added support or help.
Our Employee Assistance Program through Acacia Connect is available so staff can contact at any time to seek counselling support with any issues they are facing, whether that be at work or in their personal lives. This service can be accessed through a 24/7 support service either by calling 1300 364 273 or you can text/live chat on 0401 33 77 11.
Perisher staff are also eligible for three face-to-face counselling sessions at no cost with Jindabyne Family Counselling. To make an appointment, you can contact this service by phoning 0422 749 947. All appointments are kept private and confidential.
---

Nice!
Guest Feedback
"You only ever seem to hear the bad stuff about power blackouts and car parks etc... So I decided to tell you some really nice stuff about my time(s) down here this year. The Mount P staff of all the runs from triple over to Eyre have been fantastic, all with wonderful personalities that seemed to really like being there. Champion kids the lot.
On the Mon/Tues of this week though I saw Jenny making sure that the chair was full and everyone was having fun and smiling, getting singles/triples all together and chatting. Loved it!!!!
Now THE major player that you have working for you is Tom Walker on the ticket checker. This young man was so helpful calming some kids when they had been blown off the T-bar at Happy due to the massive wind gusts. Both he and Jack, who's surname I didn't get, are great guys with us all singing nursery rhymes to put smiles on the little kids faces. These young men and the lovely Jenny made my stays so much more worth it...
Now because of these guys it looks like I'll have to order next year's pass.
Cheers Damon"
---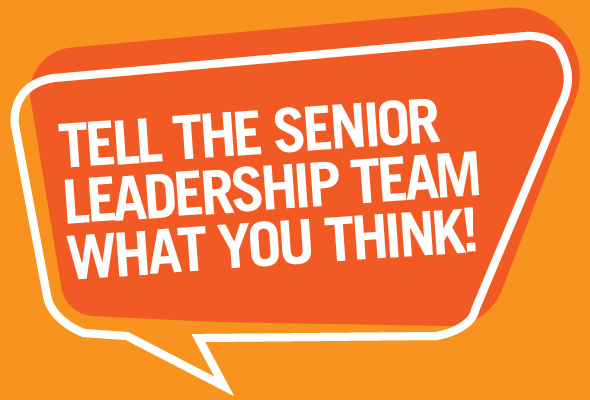 Staff Feedback - Any Opinions?
Do you have any opinions about what we do? Everyone is encouraged to submit their feedback, there is no idea too big or small! We look forward to hearing from you!