---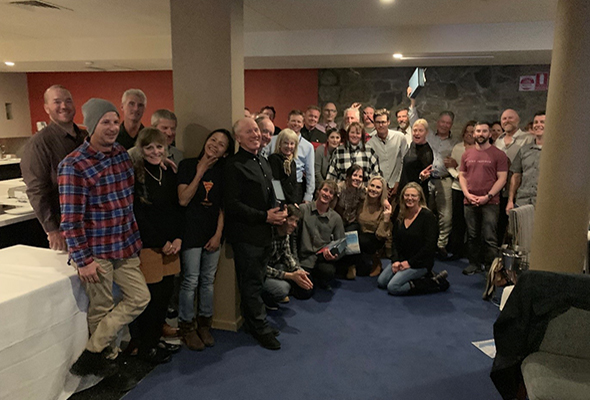 Award recipients on the night - representing over 800 years of service to Perisher!
Staff Service & Epic Service Awards Dinner
On Wednesday 11 September Perisher held its annual Staff Service and Epic Service Awards dinner at Snow Gums Restaurant, Perisher Valley Hotel.
This great night is to recognise the service of our long-term staff as well as to announce the winner of the Perisher Epic Service Award for 2019.

2019 Service Award nominees and Service Awards Recipients– Finalists
The EPIC service award is our highest level of recognition for service and it's awarded to those employees who go above and beyond, re-imagine service and embody our service mantra: "Own It. Personalize It. Elevate It". This program recognizes individuals who provide an Experience of a Lifetime to our staff and guests.

Finalists for this year's Epic Service Award were Sharon Pearce (HR); Benje Munce (Patrol) and Darren Tosh (Transport). Sharon Pearce was announced as the winner! Sharon will receive an all-expenses paid trip to one of Vail's resorts to attend the annual awards ceremony in July 2020. Earlier this season our EPIC service award winner from 2018 Don Peterson attended the ceremony in Whistler-Blackcomb, Canada, so I think it's safe to say the upcoming awards will be somewhere just as picturesque.

Join us in congratulating Sharon, Benje and Darren for going above and beyond in their service to our staff and guests. Their nominations were as follows:

Sharon Pearce – Serve Others - Epic Service Winner 2019
Shaz went above and beyond to assist an injured guest to get from Perisher, back down to his accommodation, which she understood was at The Station.
The guest had broken his leg while riding alone at the resort. Sharon offered to drive him down to his accommodation at The Station and it ended up being quite the exercise indeed! Sharon helped assist the guest onto a packed train with all his equipment, assisted in storing his equipment in his car at Bullocks and then drove him to his accommodation, which tuned out was not at The Station and in fact was further past The Station.
Knowing Sharon, she would have done all of this with a smile on her face as well.

Benje Munce – Do Right- Epic Service Finalist 2019
A guest posted an awesome compliment on Facebook, about the assistance they had received from a Perisher Patroller while in the resort. The guest had faced a difficult day of skiing with their young autistic friend. After making it up the lift, the young girl became overwhelmed and was unable to continue down the hill unaided. Benje arrived on the scene and worked his magic in calming the girl and guiding her safety down the run.

Darran Tosh – Be Safe - Epic Service Finalist 2019
When a staff member was unwell and unable to get medical assistance on mountain. Darran (after a busy day at work) jumped in the car and drove him to Cooma hospital and then home again late in the night. A fellow staff member nominated Darran for his dedication to his staff and his willingness to consistently go above and beyond for others.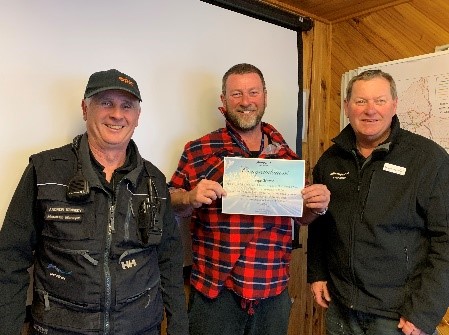 Benje Munce is congratulated by Michael Fearnside and Andrew Kennedy
Staff Service Awards
Congratulations to all staff who received Milestone awards for their years of Service at Perisher. The list below represents over 800 of years of service at Perisher - an awesome effort!

A big thanks also to all our Snow Gums Restaurant staff for putting on such a great night with excellent food and service!
40 years


Alan (Barney) Davis

35 Years


Laurie Hodge

30 Years


Richard Drummond




Gregory Louder




Paavo Parviainen

25 Years


Stephen Austin




Maurice Giorgiutti




Neville Leel




Raymond Slater




Karen Buckley




Garth Willmott




Christopher Bevan

20 Years


Jenny McCormick




Kenneth Moon




Malcolm Rackley




Mark Robinson




Monica Stewart




Patrick Sullivan




David Milford




Nina Halvorsen




Ben Jackson

15 Years


Saleena Shirvington




Noonid Van Schaik




Daniel Olejniczak




Richard Burkett




Ruth McKinlay




Michelle Hodgson




Robert Stewart

10 Years


Brock Armstrong




Adam Cathor




Troy Clark




Felicity Coates




Luka Dasovic




Bradley Horne




Nigel LeCocq




Luke Lewis




Natalie Lord




Daniel Maher




Stephen McGill




Damien Pearce




William Saugez




James Taylor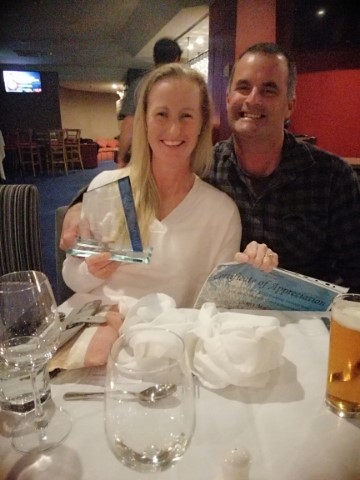 Jenny & Chillie enjoying the night!