---

Perisher named as a Finalist in 2019 Business Awards
The Far South Coast and Capital Business Awards celebrate and recognise excellence in business leadership, entrepreneurship, innovation, sustainability, business growth and employment practices across the Far South Coast and Capital.
Perisher Ski Resort was announced as the winner for the 2019 Snowy Monaro Business Awards, Excellence in Sustainability category. As the winner of this category, Perisher was automatically entered into the Far South Coast and Capital Regional Business Awards.
The Excellence in Sustainability award category recognises business that are working to reduce the impact of their operations on the environment and/or provide products and services that have positive environmental outcomes.
Our entry outlined Perisher's, (together with Vail Resort's part) in our epic promise as we aim for a zero footprint. Zero net emissions by 2030; Zero waste to landfill by 2030; and Zero net operating impact to forests and habitat.
Thanks to Perisher's Environment Team and everyone for doing your bit towards Perisher's Epic Promise to Zero.
An extra special mention to the Environmental team for their hard work in driving our value Do Good! You may have noticed some of the initiatives that have been put in place around the resort in an effort to reach the goal of zero waste to landfill by 2030. Some of these include, the food sorting station at Blue Cow and implementation of reusable cups and cutlery at food outlets.
---
Employee Engagement Survey Results
In this years' Employee Engagement Survey, we had a stellar turn out with over 1,000 staff participating to give us their views on working at Perisher. Perisher achieved an overall staff engagement score of 92% which is an improvement over last year and above Vail Resorts average. Of the 14 categories covered by the EES, Perisher improved in 10, stayed the same on 3 and dropped by 1% on one.
Managers are in the process of reviewing their department results and developing follow-up plans in order to make improvements for 2020. Further communications will follow regarding actions to be taken for 2020 based on the feedback received from the survey.
Thank you to everyone who participated!
---
Jobs, Jobs, Jobs!
We are currently looking to fill several roles at Perisher. Check out the vacancies below:
Experienced Painter
Perisher Paint Crew is responsible for the maintenance and upkeep of all painted surfaces throughout the entire resort.
To be considered for this role, previous experience and qualifications as a Painter is required.
Click here to read more or to apply:
Small Engine Mechanic
This exciting opportunity would suit a qualified and experienced 2- and 4-stroke Small Engine Mechanic. You would be responsible for servicing, repairs and rebuilds for our Skidoo and motorbike fleet as part of our Workshops crew.
To be considered for this role, a Cert III in a Mechanical discipline and previous experience as a Small Engine Mechanic is a required.
Click here to read more or to apply:
Commercial Property Manager
We are looking to fill this year-round role on a permanent basis.
The role will be tasked with managing all lease, license and other commercial property agreements, service agreements, major supply contracts as well as commercial insurance for Perisher, Falls Creek and Hotham to ensure the required commercial outcomes are achieved and contractual arrangements comply with the guidelines set by the Finance Director and Corporate Counsel.
To be considered for this role, the successful applicant needs to have a depth of experience in managing commercial properties and ideally have a Degree or Diploma in Business.
Applications close 6th October 2019

Guest Services Assistants
A new opportunity has arisen for Guest Services Assistants to join our team (outside our winter operational period), as part of our support for our partner resorts in Japan.
The role is predominantly call centre based. To be successful, applicants will need to have a genuine willingness to help others. The successful candidates will be guaranteed a minimum of 30 hours per week.
To be considered for this role, previous experience in Guest Services or a reservations role together with a willingness to work most weekends is essential:
If you think you or someone you know would be just right for one of these roles, be quick and APPLY NOW!
All applications will be treated with the strictest of confidence.
---

Canadian 19/20 Winter Applications
Whistler Blackcomb is calling!
Interested in continuing your Experience of a Lifetime? Whistler Blackcomb is now hiring for their winter season and want you to extend yours!
Learn more about potential roles including Certified Instructors, Experienced Groomers and Mountain Dining positions, by clicking here and completing the application.
Sun Peaks 19/20 Winter Applications
Sun Peaks, a ski resort in beautiful British Columbia, Canada are currently accepting applications for all positions within their resort. If you're interested in continuing your Winter Season, check out the link below to apply:
---

Pond Skim - Next Sunday!
Come along and join us in celebrating the amazing 2019 season with a splash! Join the fun with great people, music and a dip in the pond! Start planning your outfits now and we'll see you pond side!
The Pond Skim combines creativity, skill and courage with a little luck! A cheer from the crowd is always appreciated to get competitors to the far side of the pond. Will you make it across high and dry or will you plunge to the icy depths of the pond? Come and find out!
Who: Everyone ages 6+. Skiers and Snowboarders, Monoskiers, telemarkers! Come one, come all!
When: Sunday 6 October
Time: 12.00pm
Where: Poolside (Below Sundeck. Right side of Front Valley)
Register: Staff are eligible for a discount off registration so you only pay $15 to participate in this great event. Staff can click on this unique link to receive the discounted rate, numbers are limited so get in quick!
---

Moving On?
Are you aware of the checkout procedure to ensure you receive your Security Deposit is returned quickly?
Our Staff Accommodation team are ready to assist you with your departure. Once you have been informed of what your last day of work will be, simply contact Kiara or Cid on This email address is being protected from spambots. You need JavaScript enabled to view it. to notify them of your expected departure date and schedule your final inspection. Rent is charged at a daily rate until you have checked out, had your final inspection and handed in your Departure Form and key.
Claiming your Superannuation
Temporary residents who are leaving Australia may be eligible to claim their Superannuation back after leaving the country. Information about your eligibility and steps to secure your refund can be found at the link below.
To obtain this refund, you will also need access to your MyGov account. It is suggested that you create your account prior to departing Australia so that you can easily contact MyGov should you run into any issues.
---
Upgrade your Equipment at Perisher's Slopestyle Mountain Sports - CHEAP!
We caught Alex at a weak moment and got him to agree to some awesome end of season deals for staff and dependents:
40% off all skis, boards, jackets and pants
30% off everything else in the store
Now is the perfect time for you to purchase that new board or pair of skis you have been dreaming of all winter! What are you waiting for?! Pop in, say hi to Alex and his team and pick up a bargain at Perisher retail outlets! Offer is for floor stock only and you'll need your staff/dependents season pass to get the discount.
---
Guest Feedback - Thank You Perisher Quad Express Team
Guest Comment from last week:
My 89 year old mother came with us this year and going up on the quad chair as a foot passenger was such a highlight for her. The last time she went on a chairlift was at a fair in pre-war England. I really appreciated the lifties assistance to make it possible that day (19 Sept).

---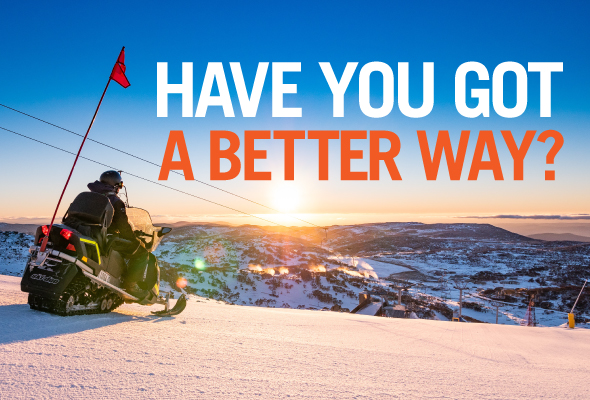 Staff Feedback - Any Suggestions?
Do you have any questions or ideas on what we do? Everyone is encouraged to submit their feedback, there is no idea too big or small! We look forward to hearing from you!