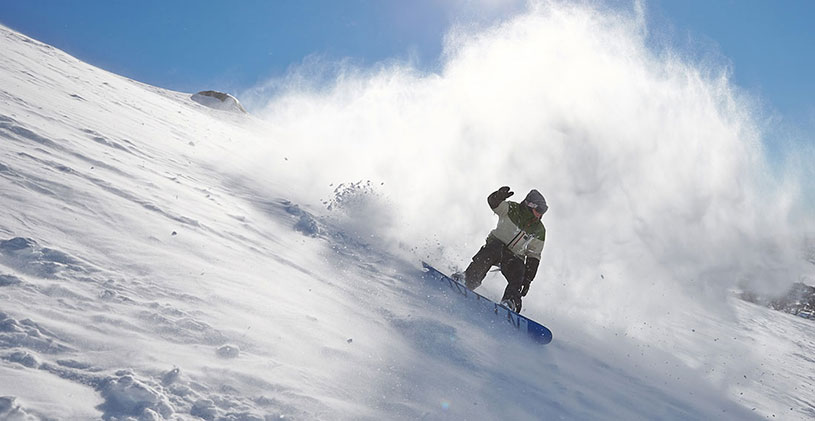 With winter officially just around the corner, it's important that you get your body ready for a good season full of skiing and boarding. Recently we caught up with Australian Ski Cross Olympian, Sami Kennedy-Sim, to find out what she recommends for prepping our bodies for the snow season.
Reducing the leg-burn…
"Skiing and snowboarding is mostly about using your legs, so if you want to ride all day long and still manage to stand for a drink afterwards, I would recommend doing some wall sits at home. The pressure on your legs when you're leaning against the wall replicates the same pressure experienced when you compress your legs for skiing and boarding."
Remember, any movements that replicate your chosen discipline will help you get the most out of your holiday."
Don't forget your upper body...
"The upper body is essential for stability and balance. Activities like Yoga are great for strengthening and maintaining your core muscles, shoulders, neck and arms. This will also increase your chances of staying upright!"
Yoga expert, Georgie, from Alpine Yoga says "The movement and positions required in yoga can benefit skiers and boarders, and help reduce the physical demands put on the body by the sport. Remember, if you stay in top shape, you can keep riding for many years to come. Now, there's something to look forward to!"

Eat clean…
"I make sure that I am getting plenty of fresh fruit and vegetables, as well as enough protein from lean meats, dairy and legumes to make sure I have enough energy to train all day. My go-to winter dish is a good old fashioned roast dinner, using seasonal vegetables like carrots and cauliflower."
"When I eat well, I can ski for hours!"
Injury doesn't mean the end…
"My biggest tip is to become even fitter than you were pre-injury. This will bring back your confidence to carve your way around the resort again. If you do injure yourself, seek the advice of Doctors and Physiotherapists and work through the exercises they prescribe you to make sure you're back on the slopes as soon as possible."
Learn from the best...
"If it is your first time heading to Perisher this year, make sure you get online and book a lesson with one of Perisher's instructors. You will be surprised what you can achieve from a few pointers from a pro!"
Perisher has a great range of Group and Private Lessons aimed at every level of experience and age. Whether you are a complete newbie needing lessons or wanting to improve your skills, there is always something new to learn with this sport.