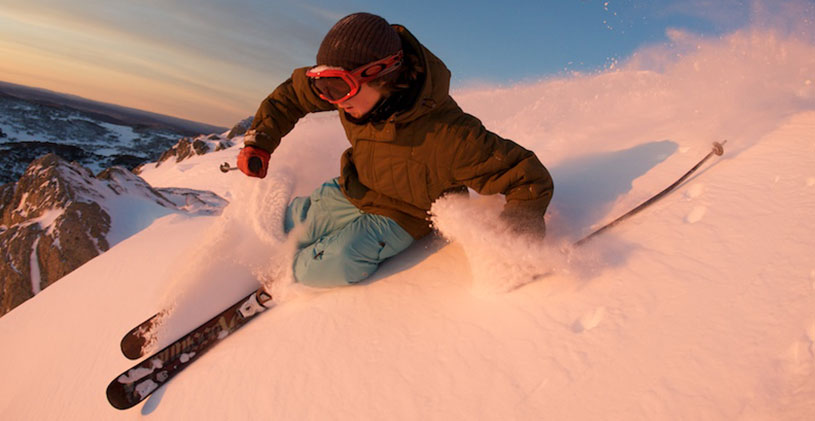 The time has come to get your equipment tuned up and ready for the 2015 season. We spoke to professional technician, Nathan from Adi's Waxatorium, who gave us some quick tips to help make sure your skis and boards last the season and more.
Tip #1: Keep your gear tuned and waxed
Nathan tells us the science behind it all… "Waxing your board does a few things: it keeps the petex from drying out - extending its lifespan and it reduces the friction on the snow which helps your riding be more fluid and flowing. It can help you go faster and traverse further".
You don't have to be a professional to give your skis or board a basic tune up. With a little time and patience, not only will you save some money, you'll also make sure that your gear is getting the love it deserves. "You can wax your own equipment with a block of wax, hot iron, scraper and scourer. My biggest tip is: don't use too much heat, work your way up, and do enough scraping to not leave excess. Excess wax will do the opposite to what you want - wax is for impregnating the petex, not sitting on top."
Don't feel like the DYI job? You can take your skis or snowboard to the Adi's Waxatorium for a tune up, which leaves you free to enjoy a coffee while we keep your gear in great condition. This year a brand new Montana Machine is calling Perisher home – it's the first to be installed anywhere in the world!
We asked Nathan about this new machine and also a little about the history of Adi's Waxatorium; "Since Adi started tuning ski equipment in 1977, he has consistently been on his A-game. He was the first to introduce Montana stone grinding to Australia, and has had the first and latest equipment as the industry has progressed."
"This year we are running a Montana Sapphire, which is the absolute top of the range tuning machine! It is also the first of its kind with the latest technology in the world. It has a new stepping motor on the diamond dressing unit producing better structures than ever before, and a hard disk edge polishing unit that creates the perfect polished edge. Adi has a passion and pride for the work he does, so pop over and see him if you have questions about your gear."

Tip #2: Longevity depends on your habits
Some people want their equipment to last a lifetime, and others want to trade up each season. The truth is, if you look after your edges and make sure that any divots or holes are repaired then your skis and boards can definitely last much longer than one season.
Nathan tells us that "Tuning your equipment gives you the opportunity to ride at your best, burred or jaggy edges can grab on harder snow or icy patches, making you lose control and stack. Check your edges regularly; if it's not smooth on your finger then it's not smooth on the snow."
"If you want to fix a hole in your equipment yourself, melt petex into the hole and file down to flat. My tip is to use the correct file. Also a good way to extend the life is to dry your equipment to eliminate any rust."
"You can use a file and file guide to do your edges yourself or get a tuning workshop to run it through a machine. Base Grinding is a machine thing, which Tuning shops do. A quick tip: there is a huge difference in the machines that can do this, look for the shops with the better gear."
Tip #3: Transporting and storing your gear
If you're using roof racks, your skis or board might attract some of the harsh road chemicals that could rust your edges and bindings, so we suggest giving them a good rise off and then make sure they're completely dry when you get home.
We hate seeing great equipment being dragged through the car park or thrown on the ground. By doing this, not only do you run the risk of snapping your gear, but it can easily dull your edges and damage your base. We know you know better, but your kids or your friends might not. Help them extend the life out of their gear and avoid bad (expensive) decisions.
We want you to enjoy your equipment and make sure that you get the very best out of it. If you've got any concerns about your gear when you're in the resort, make sure to drop in and see Adi or Nathan at Adi's Waxatorium.