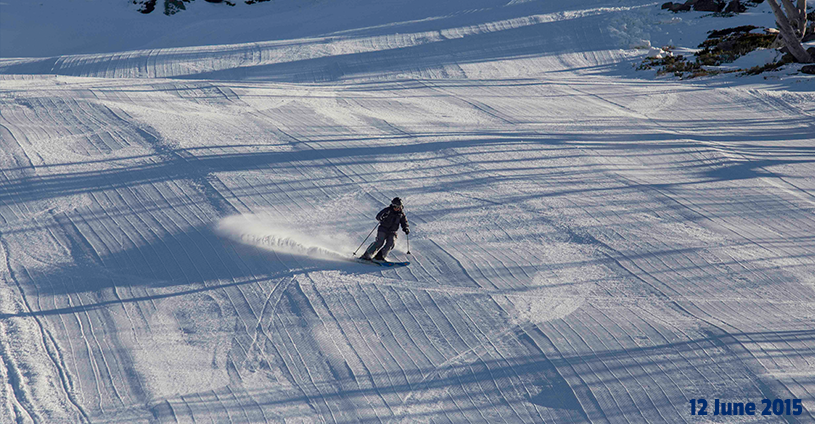 We're excited to tell you that Blue Cow is now open! This means that Perisher will have some great terrain on offer for all levels of skiers and boarders across Perisher Valley and Blue Cow from Friday 12 June. Lifts opening at Blue Cow include Early Starter, Summit, and Terminal Chair providing access to the iconic Zali's.
Have you ever wondered how Blue Cow got its name? The story goes that James Spencer obtained the lease for the high country on the main range back in 1840. They say that Spencer bred imported black English Shorthorn cattle with white Shorthorns which gave the offspring blue roan coats. One cross-bred cow would disappear after the thaw each year and would be found grazing on the mountain before the next winter; and so the mountain was named Blue Cow.
Perisher Sales & Marketing Manager Richard Phillips said, "Blue Cow is one of the most popular areas of the resort and having it open this early in the season is fantastic news for all skiers and boarders."
Mr Phillips added, "It's a credit to the snowmaking team that we are able to open Blue Cow this early in the season. They have really made the most of the extreme cold temperatures that hit Perisher through last week. As we are all sleeping the snowmaking team have been working through the night in temperatures of minus 10 degrees to get more terrain open for Perisher guests."
The highest lifted point at Blue Cow is 1960m and there's a vertical drop at The Ridge sitting at 360m, so with 14 lifts to choose from it's no surprise that Blue Cow is one of our favourite areas to ride. If you've never been to Blue Cow before, or just want to know some more details, be sure to explore the area before you arrive.
While you're at Blue Cow this weekend, relax and admire the panoramic views from the Blue Cow Bistro or Holy Noodle, both of which are going to be open from Friday 12 June and are located on the upper level of Blue Cow Skitube Terminal. For the adults wanting to enjoy a drink after a big day on the hill, The Top Spot Bar is located on the upper level of the Blue Cow Skitube Terminal and has great entertainment on Thursdays while also housing the locally distilled Wild Brumby Schnapps for you to enjoy.
It's really easy to purchase your tickets online, which means you won't have to wait in any lines when you arrive (although our customer service team are lovely if you do want to say hello), and also means you'll save money when you purchase in advance! Keep in mind that you'll need to purchase a ticket before you arrive at Blue Cow, so you can purchase this at Bullocks Flat Terminal or Perisher Valley Ticket Office.
Freedom Flexi is back – Ski and Board from just $99 per day.
Perisher's popular Freedom Flexi Pass is back for the 2015 winter offering Perisher guests the ability to ski and board when they want on any three days of the 2015 winter season. Once the three days have been used, extra days can be added at any time for the discounted rate of just $99 per day. Skitube, the easiest way to travel to Perisher can also be added at the time of purchase.
Perisher CEO, Peter Brulisauer said "The Freedom Flexi Pass was very popular last season as it provided guests with the flexibility to ski and board when they wanted at a great price. The ability for guests to reload their Freedom Flexi Pass online allows guests to head straight to the mountains and spend more time skiing and boarding."