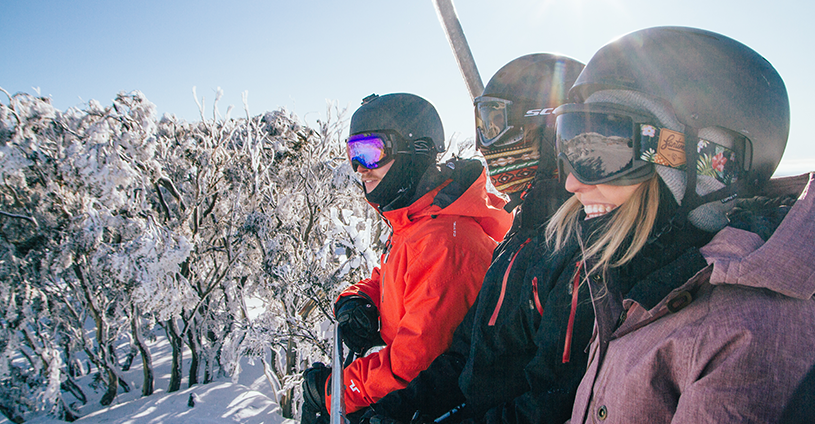 We all know what chairlifts are, those hanging chairs in the snow that transport skiers and boarders up a mountain before placing them back on the slopes. But what is it about chairlifts that is so unique?
Riding the chairlifts in Perisher can sometimes be very interesting, profound and often hilarious. Chairlifts bring people together for a few minutes and often people decide to break the silence by happily chatting to the fellow snow enthusiast sitting next to them.
Unlike buses or trains, there is a certain social culture in chairlift chatting. In fact, chairlifts are oddly intimate places where people, masked in snow gear, happily chat to a stranger sitting alongside them.
Beneath the round helmets, the neck warmer and reflective goggles, people still manage to engage in conversation, sharing their thoughts on similar passions. There is a sense of connectedness through common interests and a passion for the snow.
The average ride takes anywhere between 2 - 9 mins, so after the small talk of "Great day isn't it" or "The snow is amazing and it's such nice weather", or even "How long you down for?" is all finished, total strangers can often manage to tell a snippet of their life story. A chairlift acts as a social entity that lets people share whatever it is that is on their mind or happening in their world.
At Perisher, our chairlifts take us around a variety of different terrain, whether we are watching people make perfect carving turns down Towers or watching the park riders fly off features in the PlayStation Slopestyle Terrain Park; there is always something to take in and chat about.
Every chairlift ride can be interesting; you can quickly get chatting about anything and everything from commodity prices to free retirement plan information, swapping tips on how to raise children or what the best snow gear is. We've heard people singing along to a popular tune, grabbing picture perfect selfies or even blowing off steam about the recent frustrations of their partners, all while sharing a chairlift with a stranger.
As the "alight here" sign appears the shuffling of skis, stocks and snowboards begins. The conversation usually ends with "are going left or right?" and then you quickly yell out "have a good run" or "enjoy your day ".
Up goes the bar and as you push away from each other, some fall some don't, you smile and continue your day on the slopes having experienced the Chairlift chatter.