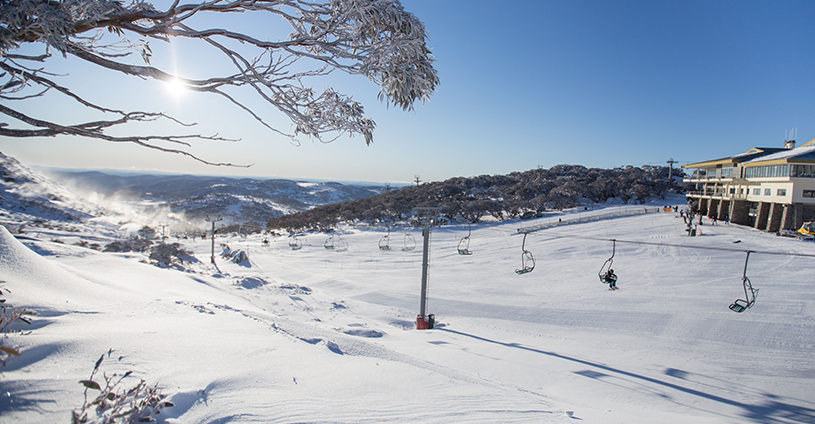 We're continuing our naming the mountain series with beautiful Blue Cow! Earlier in the season we learnt how Blue Cow got its name well now we are going to focus in on a few runs on offer in this diverse resort area.
With a range of terrain for beginners through to expert riders, there is something for everyone, so it's no surprise Blue Cow is one of our favourite areas to ride. If you've never been to Blue Cow before, or just want to get to know the runs better we've selected a few that you won't want to pass up the next time you're there!
Cold Shoulder
The story goes that when Perisher was home to cattle, in certain weather the cattle would heat up from the northerly sun while the side in the shadow got increasingly colder. The cattle would then develop a "cold shoulder" which was also the cut most favoured by the farmer's wife as it required less refrigeration.
You don't have to worry about developing a cold shoulder unless you forget to wear your thermals! Cold Shoulder is accessed off the Brumby T-bar and is a fantastic run for intermediates.
Rollercoaster
Rollercoaster is one of the most iconic runs in Blue Cow known for its rolling slopes and if you go fast enough it can churn the stomach a little like you were on a rollercoaster. This one can also be accessed off the Brumby T-bar and will lead intermediates all the way down to the Ridge Quad Chair.
Zali's
One of the other iconic runs in Blue Cow, of which there are many, is Zali's. Located off the Summit Quad Chair this double blue run offers long turns right back to the bottom of Summit.
The run was originally named Stampede but was renamed after aussie Zali Stegall who won a Bronze medal in Alpine, Slalom at the 1998 Winter Olympics in Nagano, Japan. She was Australia's first individual to win a winter Olympic medal and she remains one of Australia's most internationally successful Alpine skiers.
You can find early morning training sessions on Zali's of young Alpine athletes training just like Zali.
Kamikaze
Halfway down Zali's you can take a hard left to drop into Kamikaze. This run isn't for the faint-hearted and is one of the expert runs on offer in Blue Cow. You have to be a kamikaze to take on this run, but if you feel confident enough it can offer some of the best terrain of the day.
Rumour has it this run was named after a young man who took on this slope in the 1960s. He was seen as a kamikaze because all he used to ride down the hill was a waxed coracle (kind of like a modern toboggan) made from a wombat hide stretched over hand woven timbers!
Copperhead Road
From Blue Cow you can either ski over to Guthega or back to Perisher Valley. One of the trails leading you back to Perisher Valley is Copperhead Road. This trail starts from the top of Pleasant Valley Chair and takes you all the way to bottom of the Pretty Valley Express.
During summer Perisher's General Manager of Operations was out checking on the progress of this trail as it was being built. As he was walking around he almost stepped on the highly venomous Copper Head snake that had slithered between his feet. Ever since then the trail has been known as Copperhead Road.
You certainly don't have to worry about any Copper Heads taking this trail in winter!
Blue Cow is certainly where a lot of action takes place so don't miss out on anything and take on the runs mentioned. You can challenge yourself on Kamikaze or simply turn down the rolling slopes of Rollercoaster. The day is what you make it here in Blue Cow!
Remember to stay tuned as we will share more of the behind the scenes info so you can get to learn the mountain better.