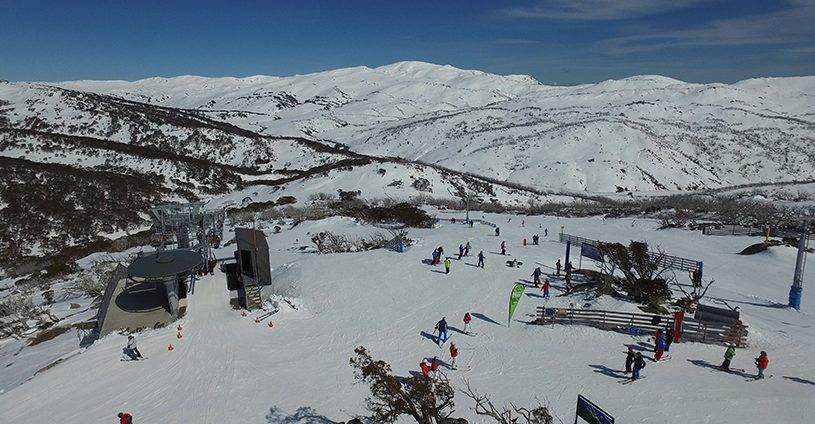 To round out our naming the mountain series we are finishing with stunning Guthega. There is a reason why locals love getting to Guthega and end up spending most of their day there.
The terrain ranges from beginner to advanced for skiers and boarders. With breath-taking panoramic views of the Kosciuszko mountain range, don't be surprised to see people stopped on the side of a run to grab a quick picture of the view.
Whichever run you select to take your pics on you may as well learn a little bit about the run as well. Here are some of those spectacular runs and their backstories.
Karl's
This one is for the intermediates and can be accessed off the Freedom Chair. It's a nice lengthy run that is sure to get the legs warmed up ready to take on more of Guthega's terrain.
It's named after Karl Guenther who helped to build Guthega into what it is now. He aided in the construction of the Ski Centre in the car park and became the Mountain Manager in the early 1960s.
Karl created many of the ski runs in Guthega so it was only fitting that we named one of them after him.
Milk Run
This short run is great for beginners with open spaces for them to practice some turns from the bottom of the Blue Cow T-bar to the bottom of the Freedom Chair.
It's called Milk Run because the local Guthega milkman used this as a shortcut on his way back to Smiggins. No fresh milk available on this run although on a good day you can pit stop at the Saddle Kiosk at the top of the run and soak in some rays whilst enjoying a hot choccie!
Parachute
Either take the Freedom Chair or Blue Cow T-bar and head to the furthest skiers right and you will find yourself on the advanced run, Parachute.
This run has a very tall tale to tell with a woman skiing this dangerous slope in the early 50s. She was wearing a long dress and during a strong gust of wind was lifted over the top of the mountain and parachuted down onto what is now the run Schnaxl.
Hanky Panky
We won't go into much detail on where this run gets its name but let's just say the early days of Guthega were wild times indeed!
Hanky Panky is an intermediate run offering wide open spaces perfect for some early morning carving sessions. It can be accessed either off the Freedom Chair or the Blue Cow T-bar.
So there you have it, a quick behind the scenes of Guthega. Make plans to visit this resort area and soak in these beautiful views, we guarantee you won't be disappointed!
Stay tuned for our Naming the Mountain series will return next season where you can learn more about the mountain you love!