What you will find in the Village
In the Perisher Centre (located on Front Valley) you will find an array of coffee shops and cafes together with retail outlets and an ATM. A supermarket is located in the Perisher Valley Skitube Terminal, plus a medical centre, pharmacy, post office, as well as café and retail outlets all close at hand ensuring a safe and enjoyable snow holiday at Perisher.
After spending a day on the slopes, relax in our on-mountain restaurants or grab a quick bite to eat on the snow at one of our kiosks located at each of the four mountain bases. There is everything from BBQ to a-la-carte dining....all complete with picturesque views.
Village Map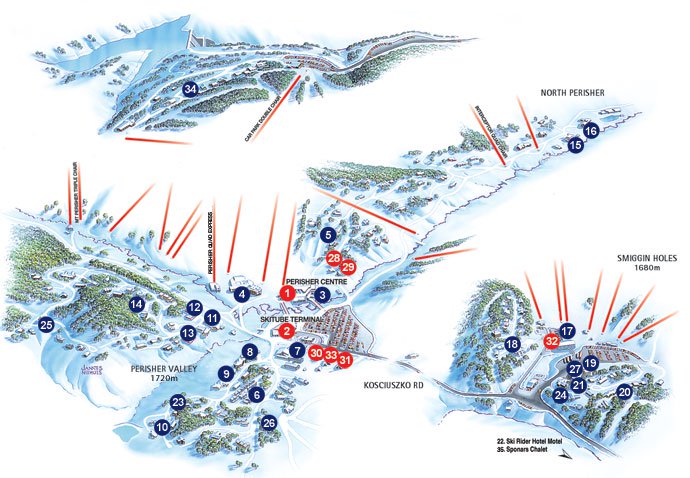 Perisher
1 Perisher Centre
2 Skitube Terminal
3 Perisher Valley Hotel
4 Perisher Manor
5 Sundeck Hotel
6 The Stables Resort
7 Man From Snowy River Hotel
8 Marritz Alpine Inn
9 Salzburg Chalet
10 The Swagman
11 Eiger Chalet
12 Corroboree
13 Matterhorn
14 Chalet Sonnenhof
23 Kooloora
25 Ben Bullen
26 Valhalla
28 All Denominational Church
29 Volunteer Ski Patrol Headquarters
30 Fire Station
31 Catholic Church
33 Ambulance Station
North Perisher
15 Peer Gynt
16 Barrakee
Smiggin Holes
17 Smiggins Hotel
18 Smiggins Chalet Apts
19 Heidi's Chalet
20 The Lodge
21 Snowy Gums
24 The Royal Coachman
27 Lodge 21
32 Smiggins Arcade
Guthega
34 Guthega Inn
Kosciuszko Rd
22 Ski Rider Hotel Motel
35 Sponars Chalet
Detailed Village Maps
Perisher Valley (pdf)
Smiggin Holes and Guthega (pdf)
Snowshoe Map (pdf)