Cold Shoulder accessible off the Brumby T-Bar is now officially re-named Mogul Matt's. Why? Meet Freestyle Mogul skiing athlete and Olympic Silver Medallist Matt Graham.
At the age of 19 Matt made his Olympic debut in Moguls at the Sochi 2014 Winter Olympic Games. Graham came agonisingly close to making the super-final in Sochi, finishing seventh which was an amazing result.
After training hard for the next 4 years and achieving multiple World Cup podium results, Graham headed to the 2018 PyeongChang Winter Olympic Games ranked 3rd in the world. Matt put Australia on the medal tally with a stunning silver medal winning performance. Graham was consistent through qualifying and finals and put down one of the best runs of his life.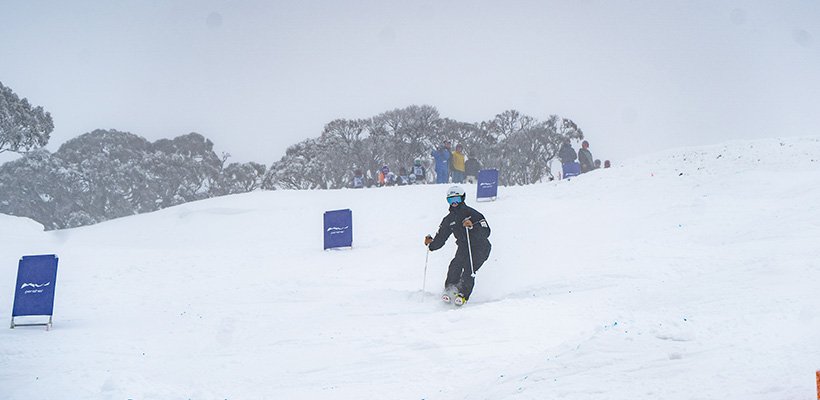 Dual Olympian. Olympic Silver Medalist. All Round Good Bloke. That's how you get a run named after you. Matt blasts the bumps down his run.
Matt Graham said "It's a great honour to be recognised today with the naming of Mogul Matts. I've spent heaps of time skiing here as a junior mogul skier in both training and competition. The run brings back a lot of great memories."
Perisher is Graham's home mountain, "I learnt to to ski here when I was three years old and I plan to be skiing here for as long as I physically can! I got my first taste of Mogul Skiing when I joined the Perisher Winter Sports Club program back in 2002" says Matt Graham.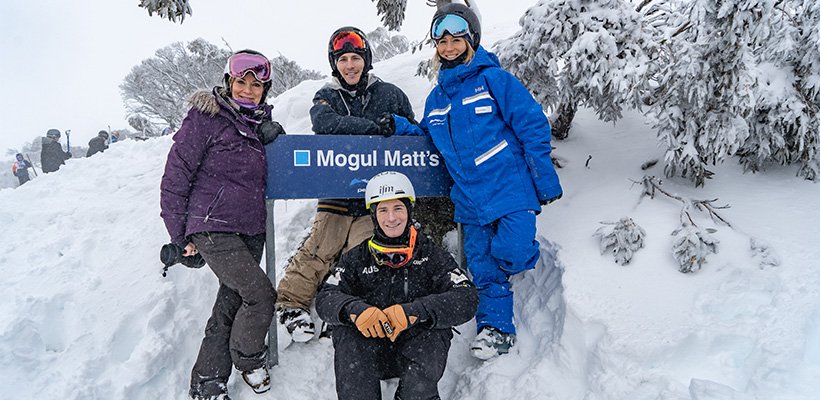 Matt surrounded by his family at the unveiling. Left: Mum Deborah. Centre Left: Brother Dave. Centre Right: Matt. Right: Sister Eliza.
"Matt is a huge role model for aspiring athletes and will always remain one of Australia's most internationally successful skiers, and we are so pleased to name Mogul Matt's after him" says Peter Brulisauer, Perisher's Chief Operating Officer.
The unveiling of Mogul Matt's happened in conjunction with the start of the Perisher Junior Mogul Championship; an event designed to introduce young athletes to the next level of competition, it provides a platform for Junior mogul athletes to show their stuff in a fun competitive environment.
Further to the naming of Mogul Matts, Perisher today announced a $260,000 investment in snowmaking on Toppa's Dream. This investment will see automated snowmaking installed on Toppa's Dream allowing this iconic run to be open earlier each winter providing a longer training period for the Australian and visiting International mogul skiing teams each winter.
Peter Topalovic, coach and long time friend was out to show his support.
Peter Topalovic Winter Sports Coordinator – New South Wales Institute of Sport said – "Today's announcement is a game changer for the sport. Increasing the training period on Toppa's Dream each season will give our athletes a great advantage and allow us to continue delivering great results within Australian Mogul Skiing."
Peter Brulisauer commented "Perisher has a long and proud history in mogul skiing and it's fantastic to be announcing this significant investment into the sport that will go a long way to helping our Aussie athletes achieve their goals."