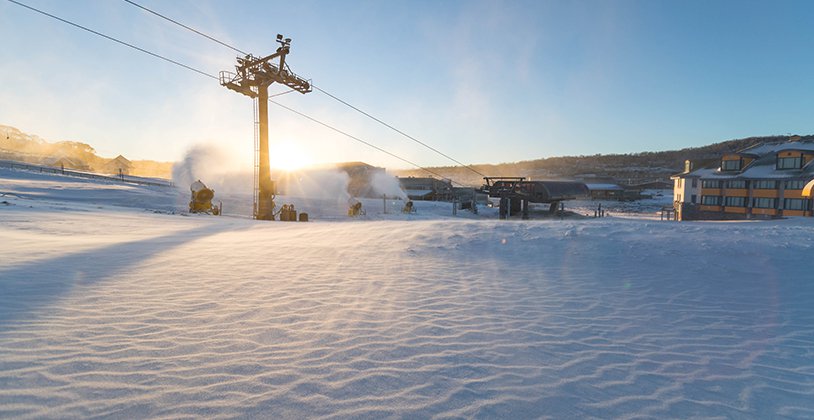 FOR IMMEDIATE RELEASE
PERISHER HIT WITH 20CM OF SNOW AND MORE TO COME
Perisher, Australia's favourite and biggest ski resort received over 20cm of snow overnight.
A massive storm hit the mountains overnight and freezing temperatures means that Perisher has ideal conditions for more snowfalls over the coming days. The front delivered 20cm of snow across the four resort areas of Perisher Valley, Blue Cow, Smiggin Holes and Guthega.
With the temperature dropping to -3 overnight, Perisher's snowmaking team took advantage of these ideal conditions with over 30 snowguns firing across Perisher. The snowmaking team will be making snow at every opportunity now as Perisher approaches the opening weekend set for Saturday 10 June.
Perisher's Snowmaking Manager, John Palmer said "What a night and there is more snow to come. More importantly for the snowmaking team there are some really cold nights that will be ideal for us to make a heap of snow and give Perisher a perfect start to the season".
Perisher Resort's 2017 snow season will kick off on Saturday 10 June with plenty of activities available for the whole family over the long weekend. Events include Peak Music Festival, Playstation Rail Jam and a fireworks display. For more information about what's happening on Opening Weekend Celebrations visit Perisher's website.
Perisher guests can stay updated on the snowfall, weather and road conditions on Perisher's website and mobile app. Check out the snow cams for a live feed of Perisher's four resort areas, or sign up to the Perisher Snow Report and have it delivered to your inbox every morning. Check out perisher.com.au for all the latest information.
With more snow forecast over the next 48 hours, it's time to start planning a visit to Perisher. The Epic Australia Pass is the perfect pass for snow lovers to get best value for season-long access at Perisher and access to the best ski resorts in United States and Canada during the 2017-18 ski season.
The 2017 Epic Australia Pass sale ends on Monday 12 June so head to Perisher's website for more information.
END.