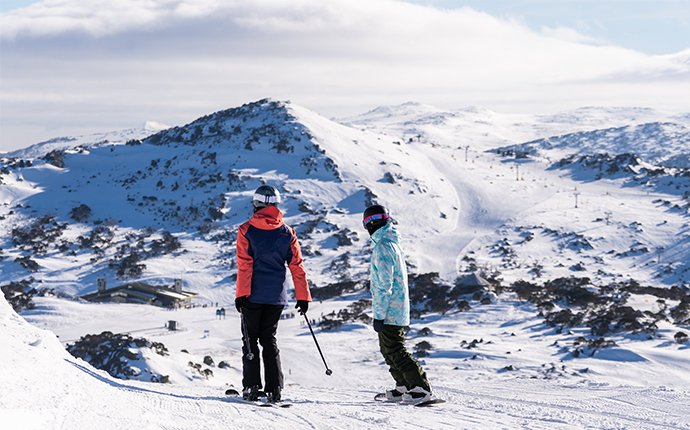 11 July 2022 - Your weekly guide to Perisher
Hitting the slopes this week? With so much on and interschools excitement in the air, check out our tips on how you can make the most of your trip to Perisher this week.
You're here to race!
Welcome back to the hill to all our interschools racers! Find out new ways to warm up and our top tips to get you race ready.
Plan ahead and arrive early
Plan your days in advance and make sure to leave enough time to travel to your race. If you're catching Skitube to Blue Cow, make sure to check the timetable in advance and be sure to arrive at your race early. Save time on race day and collect your lift Pass and rentals early.
Ski or board back home
After your race why not take a celebratory lap and ride home. If you're riding from Blue Cow head down to the Pleasant Valley Chair, from the top you can take Perisher Home Trail or slide down Copperhead Road to arrive in Front Valley.
Warm up on these groomers
For races on Front Valley: Head to Goats Gully or Escapade for some premo warm up laps. You can also venture out to The Cleft for a different route! Don't forget that the Village Eight Express opens at 8am for Interschool racers only.
For races in Blue Cow: The Summit Quad Chair will have your legs warmed up in no time. Choose between Zali's or Side Saddle to get a few laps in before your race.
Grab a pre-race snack
Get in the zone with a pre-race snack from the Perisher Centre or Blue Cow Bistro. All Epic Australia Pass holders can save up to 15% off at Perisher owned food and beverage outlets
You're here for a snow holiday!
Check out these tips that will have you hitting the slopes faster and making the most of your snow holiday
Hit the slopes faster
Save time and hit the slopes faster by collecting your lift Pass and rentals early. Collecting your ticket or Pass and rentals a day earlier means that you can head straight to the lifts!
Save time with Skitube
Catch Skitube for the quickest and most convenient way to travel to Perisher. From Bullock's Flat it only takes 10 minutes to arrive to Perisher – and you can continue straight onto Blue Cow!
Begin your day at Smiggins or Mt Perisher
Still learning your turns? Start your day at Smiggin Holes where you'll find progression perfect terrain to improve your skills on. Looking for something more challenging? Stick to the T-Bars and make your way over to Mt Perisher for a treat more to yourself in the morning.
Start early and break early
Start your day early to make the most of the slopes in the morning. With an early start you can plan for an early break to fuel up before lunch time for the afternoon. If you're an Epic Australia Pass holder don't forget you can save up to 15% off at Perisher owned food and beverage outlets!